Andy Kelly, Head of Product Line at Intelligent Energy, sat down with UnmannedSystemsTechnology.com to discuss IE-SOAR™ fuel cell modules, and the benefits hydrogen fuel cells are delivering to unmanned applications, including unlocking BVLOS operations and enabling UAVs to cover greater distances in one flight.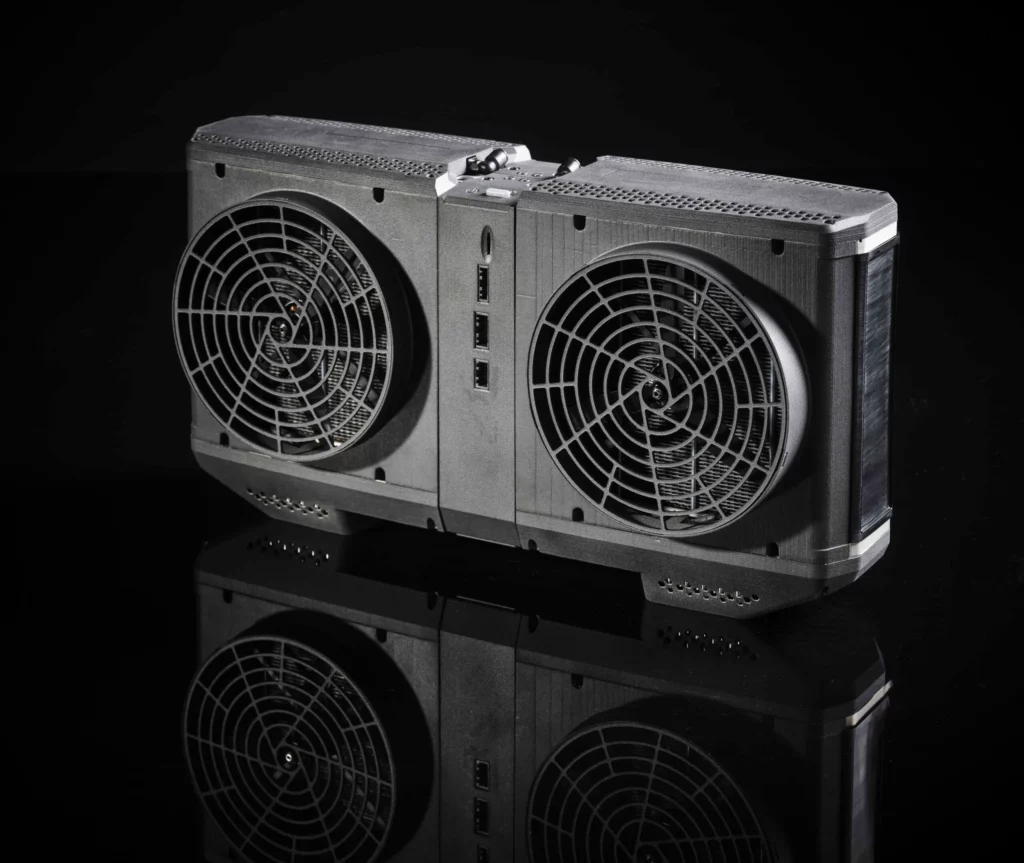 Can you outline the key advantages to replacing a UAV battery with an IE-SOAR™ fuel cell system?
There are two headline advantages. The first is increased flight time. Typically, a fuel cell system will fly 3 times longer than a battery system. This is due to the increased energy density of hydrogen vs. lithium battery technology, with every kilogram of hydrogen carrying more energy than a battery.
The second is improved total cost of ownership (TCO). The initial outlay on a fuel cell system is higher than a battery system, however, the product lifetime is 20 times more. This means that cost per flight hour is less, and at volume, the TCO can be 50% that of batteries. There are many other advantages over batteries e.g., faster refueling, built in power system redundancy, and less waste.

Can you tell us how the introduction of hydrogen fuel cell power modules (FCPM) has impacted the unmanned sector in recent years?
We unlock BVLOS operations. As regulations develop, technology becomes the next barrier to efficient BVLOS operation. Greater range is required, and this can be provided by fuel cells.
Fuel cells enable applications that wouldn't make sense otherwise. For example, in sport cinematography, being able to fly for 90 minutes allows footage throughout the entire broadcast window. They also allow drones to map much larger areas and over much greater distances. This makes it easier for drones to displace incumbent technologies (manned aviation) in certain applications.
What sets Intelligent Energy's hydrogen fuel cells apart when it comes to choosing a solution for unmanned applications?
Fuel cells vs. internal combustion engines
Clean & zero-emission – the only exhaust is a small amount of water vapor.
Near silent operation – great for low noise signature applications and less obtrusive in others.
Reduced maintenance & no moving parts – means no tuning required and no vibration, which is good for avionics and payloads. Less time overhauling engines.
Fuel cells vs. batteries
Increased flight time – higher energy density of fuel cells mean they can fly for much longer than Li batteries.
Faster refueling – you can refill hydrogen cylinders much quicker than charging batteries.
Built-in power system redundancy – if one part of the system fails, there is always another power system capable of carrying the drone to a safe landing.
Do you have any case studies involving the use of Intelligent Energy's PEM fuel cells in unmanned technologies that you can share with our readers?
Intelligent Energy's IE-SOAR™ fuel cell modules for UAVs were used to film the 2022 Sail Grand Prix. Read more here>>
The hydrogen powered 2.4kW fuel cell module enables commercial operators to fly multi-rotor drones for 90 minutes with up to a 7kg payload. With the full drone staying under 25kg, complex operational regulations are avoided, which would not be possible on a battery powered drone.
Intelligent Energy's IE-SOAR™ fuel cells were selected by Shell for pipeline inspection operations in the North-eastern United States. Read more here>>
Using Intelligent Energy's IE-SOAR™ 2.4kW on a Harris Aerial H6 airframe, the company was able to compare fuel cells with ICE hybrid technology.
What plans does Intelligent Energy have for the future?
Fuel cells haven't made full impact on the unmanned sector, yet. We have made huge strides in terms of product development, making a usable and reliable fuel cell product that is relevant to the commercial UAV market. We have also secured some amazing partnerships for the journey to come. For example, Harris Aerial, Cyberhawk and Shell.
As key industry players become more familiar with our product and its advantages, expect to see IE-SOAR™ fuel cells making a more visible impact on the industry. IE-SOAR™ fuel cells will remain the market leader in fuel cell power for UAVs, powering industry leading drones that deliver groceries, inspect infrastructure, and monitor agriculture.