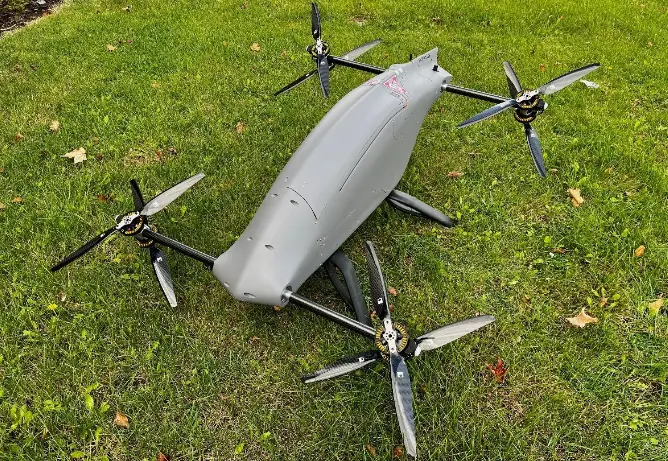 AVSS has been awarded a contract by the Government of Canada to integrate its Guided Parachute Recovery System (GPRS) and Real-Time Intelligence Landing Software (RILS).
The GPRS and RILS will be integrated on DroneUp's Prism Sky platform and blueflite's Cobalt 46 platform.
During the contract, the Government of Canada will assess the GPRS's capabilities in comparison to an unguided Parachute Recovery System (PRS). Key performance metrics will be determined by inducing failure scenarios from ASTM F3322, the gold standard of parachute recovery system testing and the testing will evaluate glide ratio performance, crosswind kinetic energy reduction, and dynamic safe landing zone selection.
The GPRS and RILS is an innovative safety technology stack built by AVSS. The GPRS is the hardware that enables the detection of a drone failure and the safe landing of the drone with guided controls, and plays a critical role in reducing the kinetic energy from crosswinds and helps reduce the critical area of a failure event.
Seldomly discussed in the drone parachute industry, unguided parachutes can drastically exceed kinetic energy thresholds set by Civil Aviation Authorities when average wind speeds and gusts are calculated for operating limitations. The AVSS technology is also being designed to mitigate the unintended consequence of a parachute deployment that drifts into unideal locations, such as in a tree, on a highway, or a substation.
The Defence Research and Development Canada (DRDC) and Mohawk College's Unmanned and Remote Sensing Innovation Centre will be testing the GPRS and RILS in Canada in February, 2024. The testing results will be shared by AVSS with industry and regulatory stakeholders for key performance metrics and creating relevant safety standards.
"AVSS has been developing this technology for several years and is excited to validate the system's performance under harsh environmental conditions with these two drone platforms," said Josh Ogden, CEO of AVSS. "When we began developing the GPRS, we believed strategic landing was the primary value proposition as it relates to JARUS's SORA one-to-one rule. However, over the last two years, we've seen Civil Aviation Authorities and regulatory aficionados identify the important role of crosswinds in kinetic energy transfer when unguided parachute deployments occur (e.g., EASA M2 Mitigation, FAA OOP). These stakeholders demonstrated tremendous excitement when we were able to demonstrate in testing the reduction of crosswind kinetic energy with our mitigation maneuvers. This contract enables us to demonstrate the GPRS and RILS with reputable testing parties on industry leading drone delivery platforms from DroneUp and blueflite."
For more information about the GPRS and RILS, visit AVSS's website.