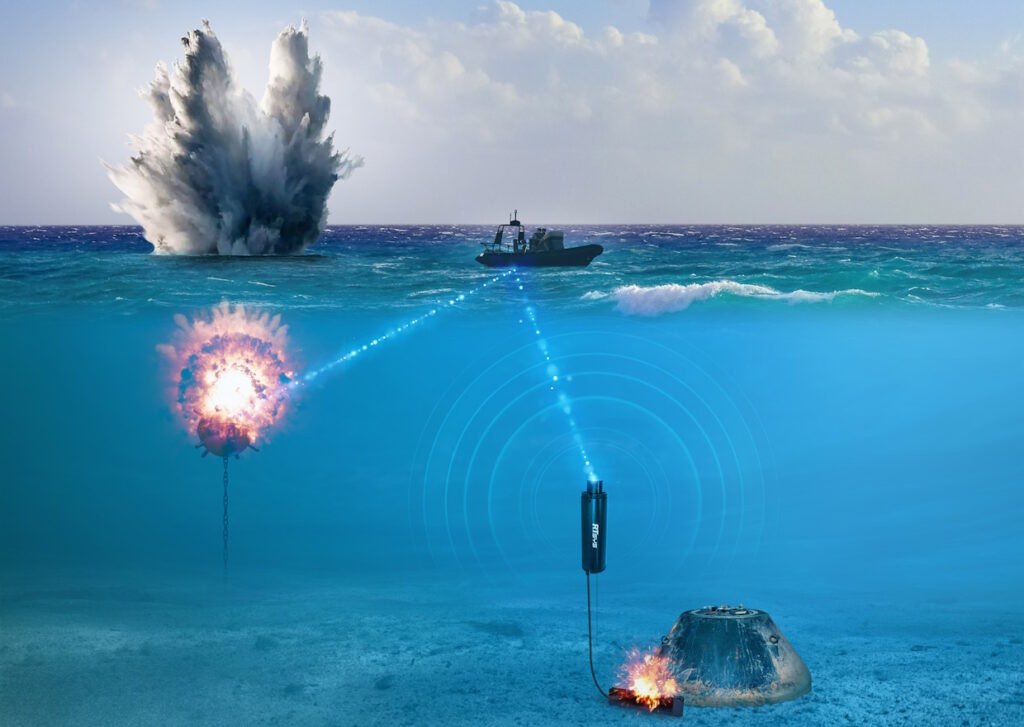 Leading developer of underwater unmanned and acoustic technologies RTsys has developed a new remote triggering solution that enhances the safety of MCM (mine counter measures) and EOD (explosive ordnance disposal) operations.
SonaBlow is designed to replace conventional wired electric detonation solutions, and features an underwater firing unit with acoustic receiver and a topside surface communication module (SCM) with a waterproof transducer.
The elimination of wiring allows the distance between the target and operator to be increased significantly, enhancing safety for EOD teams and naval personnel. SonaBlow provides a maximum working depth of 300 metres and a communications distance of up to 2 kilometres, and this range can be doubled through the use of a positioning and relay beacon (PRB). Firing units can be affixed to targets either by divers or ROVs (remotely operated vehicles), and multiple units can be controlled and detonated from a single SCM.
Acoustic communications between the SCM's rugged waterproof tablet and the firing unit are fully encrypted. In addition to secure arming, firing and disabling commands, the unit can also transmit integrity test, battery level, and distance measurement data. SonaBlow can be configured with several different operating modes, including single, simultaneous or consecutive triggering, as well as countdown and clock modes.
SonaBlow can be deployed as part of a complete manned-unmanned teaming (MUM-T) approach to MCM. The combination of this unique detonation capability with surface vessels and AUVs (autonomous underwater vehicles) such as RTsys' NEMOSENS and COMET is ideal for facilitating the identification, localization, classification and neutralization of underwater explosive hazards.
SonaBlow has been developed in conjunction with the French Navy and was funded by the Defense Innovation Agency (AID) through the RAPID program. The product is currently undergoing qualification with the French Defense Procurement Agency (DGA), and RTsys intends commercial availability to begin towards the end of 2024.