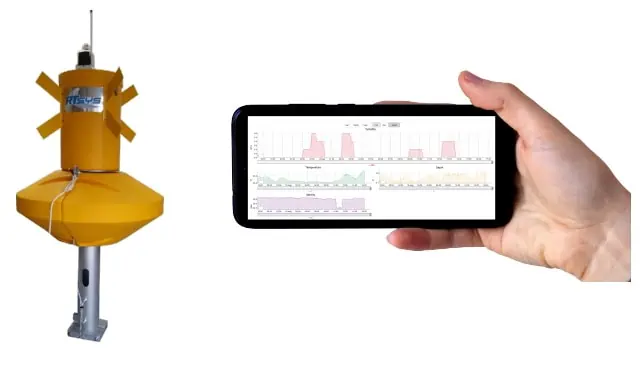 RTSYS has confirmed that it will be showcasing its new RUBHY remote acoustic buoy at the upcoming Oceanology International trade show in London. The RUBHY is designed for autonomous operations and can record and transmit underwater noise parameters such as SEL (Sound Exposure Level) and SPL (Sound Pressure Level), as well as data from attached sensors such as CTD and pH, in real time at distances of up to 10 km.
The rugged buoy is specially designed to cope with challenging offshore conditions, and is ideal for a range of underwater noise monitoring applications such as offshore wind farm construction, hydrographic and scientific survey, mammal monitoring and tracking, and port construction and dredging works.
RUBHY can withstand conditions up to Sea State 5, and is easily and safely deployed from supply vessels and offshore platforms. The recorder device is located in the dry section of the buoy assembly and is easily removable, interchangeable and rechargeable. An embedded web interface, accessible via Wi-Fi, enables a range of functions including multiple buoy synchronization, time setting and data sample collection.
RTSYS also provides the RESONANCE cloud application, which can be communicated with via Iridium or 4G and can display real-time chemicophysical and acoustic data. System parameters can also be adjusted, and alerts can be set for when defined thresholds are exceeded. Charts and reports also help to analyze assessments and monitor an unlimited quantity of buoys simultaneously around the world.
To find out more about the RUBHY remote acoustic buoy, visit the product page on RTSYS' website.