u-blox is a leading global provider of positioning and wireless communication technologies for machinery automation, mobile robotics, and autonomous vehicles. UST is delighted to welcome u-blox on board as a supplier partner, and we will be highlighting their unique solutions and capabilities across our channels over the next 12 months.
We've just launched u-blox' UST supplier profile, which has been written and built by our team in collaboration with the company. The Platinum profile showcases their smart GNSS solutions, which enable OEMs and systems integrators to develop innovative and reliable IoT products that can be wirelessly connected and located from anywhere.
Read on to find out more:
PointPerfect is a PPP-RTK (Precise Point Positioning – Real-Time Kinematic) augmentation service designed to empower mass-market service robots and autonomous vehicles with centimeter-level positioning while reducing development time.
Delivering accuracy of 3 to 6 centimeters with convergence within seconds, PointPerfect provides 99.9% uptime and is available via mobile Internet as well as L-band satellite communications. The service is ideal for mission-critical applications, and boasts uniform coverage in Europe, the contiguous United States and South Korea, as well as regions of Canada and Australia, including up to 12 nautical miles (approximately 22 kilometers) off the coast.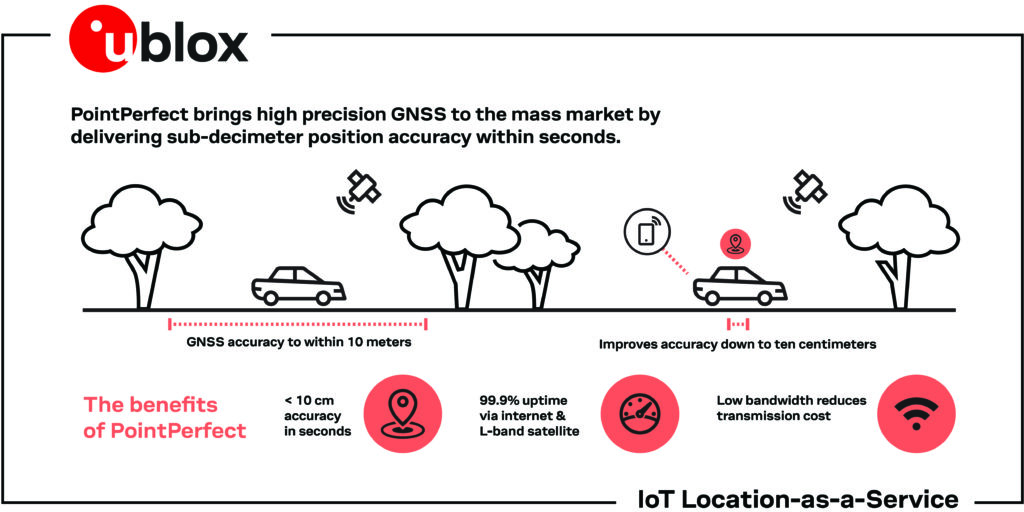 PointPerfect is delivered via the enterprise-grade Thingstream cloud platform, providing an intuitive experience with powerful features including fleet management, event monitoring and a comprehensive API. Thingstream also utilizes auto-scaling technology, supporting billions of messages and making it easy to deploy large fleets of UAVs and robotic vehicles.
The service utilizes the industry-driven SPARTN open data format, allowing it to be platform-agnostic and enabling compatibility with a wide range of devices. Messages are sent using the lightweight, scalable, and easy-to-integrate MQTT protocol, conserving bandwidth and driving down data costs.
PointPerfect is offered as a traditional subscription services as well as via flexible pay-as-you-go service plans that allow you to scale up as your business and products grow.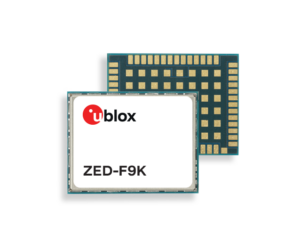 The F9 is a multi-band GNSS receiver that concurrently utilizes signals from the GPS, GLONASS, Galileo, BeiDou, and NavIC constellations. Featuring a compact and lightweight surface-mount form factor, the receiver is pre-integrated with the PointPerfect augmentation service, providing an all-in-one centimeter-level positioning solution with simplified integration.
With its high update rate and low power consumption, the F9 receiver is ideal for highly dynamic UAV and autonomous vehicle applications. Secure interfaces and advanced jamming and spoofing detection provide robust protection of all positioning and navigation information.
The F9 receiver is designed to suit high-volume mass-market unmanned vehicles and robotics designs, and is available in a number of variants, including dead reckoning and IMU-enhanced modules.
To find out more about u-blox and their GNSS augmentation and correction solutions for unmanned systems and robotics, please visit their profile page: https://www.unmannedsystemstechnology.com/company/u-blox/