PointPerfect GNSS Augmentation Service
ublox' PointPerfect is a PPP-RTK (Precise Point Positioning - Real-Time Kinematic) GNSS augmentation service designed to provide service robots and autonomous vehicles with positioning accuracy of 3 to 6 centimeters, with convergence within seconds. The service provides 99.9% uptime and is available via mobile Internet as well as L-band satellite communications.
Delivered via the enterprise-grade Thingstream cloud platform, the PointPerfect interface provides an intuitive experience, with powerful features including fleet management, event monitoring and a comprehensive API. The service supports billions of messages and utilizes auto-scaling technology, allowing it to power large fleets of unmanned vehicles and robots.
PointPerfect utilizes the industry-driven SPARTN open data format, making it device- and platform-agnostic. Messages are sent using the lightweight, scalable, and easy-to-integrate MQTT protocol, lowering bandwidth usage and data costs.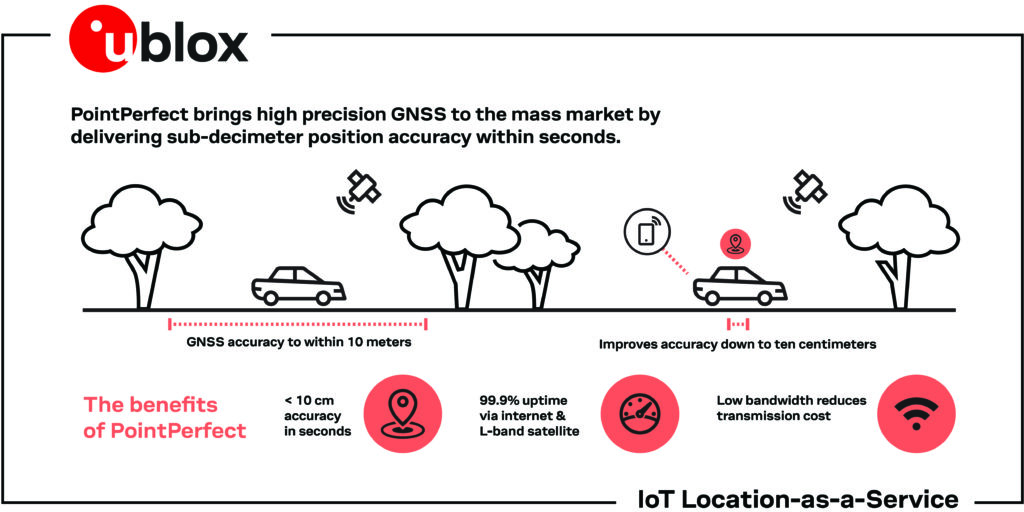 Specifications:
Horizontal Accuracy
3-6 cm (2-sigma 95%)
Initialization Time
<30 seconds (varies depending on ionospheric activities)
Coverage
Europe, contiguous United States, Canada, South Korea, and Australia regions
Data Rate
Continental: 2400 bps (with reduced bandwidth options)
Standard Correction Rate
Satellite clock: 5 s
Satellite orbits, bias, atmosphere: 30 s
GNSS Signal Support
GPS: L1 C/A, L2P, L2C, L5
GLONASS: L1 C/A, L2 C/A
Galileo: E1, E5A/B