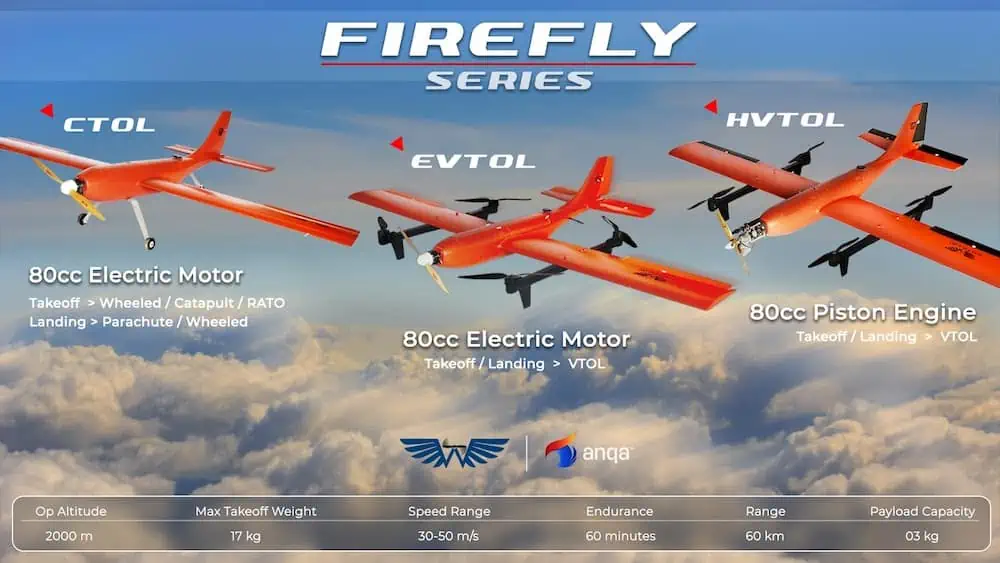 Woot Tech Aerospace has partnered with Anqa Aerospace of Saudi Arabia to produce the Firefly series of reconfigurable propeller-driven aerial target drones.
According to the companies, peacetime training is essential for keeping air defense crews current with evolving threats and new technologies. Target drones are used to simulate realistic threats for both training on and qualification of anti aircraft weapons. These drones are conventionally launched by either a catapult or assisted with rockets, while they land using parachutes. Launch mechanisms can be cumbersome and it may not be practical to install them in confined spaces such as ship decks. Moreover, the conventional launch mechanisms are often more expensive than the drones, and cost more so in terms of setup time and maintenance expense.
In response to industry need, Woot Tech Aerospace and Anqa Aerospace have introduced the Firefly reconfigurable propeller driven target drones. The same reliable airframe can be easily reconfigured as a conventional takeoff CTOL (wheeled, catapult or rocket assisted), or eVTOL in the all electric configuration (like most aerial threats these days), or piston engine hVTOL for emulating IR signature of IC engines. All versions can also be fitted with standard target payloads like MDI sensors, corner reflectors, Lunenburg lenses and IR flares, as well as tow targets.
The companies believe Firefly is a revolutionary concept in the sense that it can both dovetail with existing infrastructure of catapult launchers as well as offer a new constraint-free takeoff and landing mechanism. The same aircraft can offer the trainees different mission profiles which can include high speed dives at more than 100 knots, sudden stop and hover maneuvers, vertical climbs and descents and signature moves with some propellers moving or braked.
Unlike some conventional target drones where parachute recovery is often damaging to the aircraft structure, especially at sea or in the hills, Firefly VTOL versions are safe to land anywhere, including small ship decks. Easily assembled and operated by a single crew member, they are also more economical to operate. Hot-swapping the batteries in the all electric version means that training can be carried out over a longer period of time without significant delays.