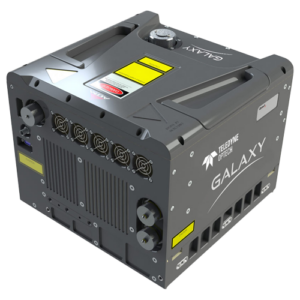 Teledyne Geospatial has confirmed it will exhibit its latest LiDAR survey and mapping hardware and software solutions at Geo Week, being held in Denver, CO, February 13-15, 2023.
Visitors are encouraged to stop by booth #721 for a first-hand look at the single-source mapping solutions and workflows available.
In addition to the smart-scanning 2 million points per second Galaxy T2000 and the density-doubling G2 Sensor System, visitors can find out more about Teledyne Geospatial's new efficiencies in airborne mapping workflows which the company believes make the Galaxy line-up unmatched in productivity and ease of use.
Teledyne Geospatial will also be displaying Optech CLS-A, a new survey-grade UAV laser scanning payload that enables high quality surveying and inspection applications where the tight integration of a powerful, narrow beam divergence laser, high accuracy kinematic IMU, calibrated camera and powerful post-processing software that supports wide area operation at the maximum operating altitude of UAVs.
Find out more about the CZMIL SuperNova topo/bathy lidar system. Equipped with the most powerful green laser on the market, Supernova provides maximum depth penetration and superior coverage in turbid waters.
Teledyne Geospatial is joined this year by Teledyne FLIR who will showcase powerful camera systems including the newly launched Ladybug6 which delivers high quality and spatial accuracy in 360-degree spherical imaging.
Presentations by Teledyne:
On Feb 13, 10:45 AM – 11:00 AM in Room 708, Track 2, Malek Singer, Airborne Product Manager at Teledyne Geospatial presents Solutions Beyond the Sensor: Revolutionizing Airborne Workflow and Productivity
On Feb 13, 1:00 PM – 2:00 PM at the Exhibit Hall Theater catch the session On the Cutting Edge: Geospatial Advances. Malek Singer, Airborne Product Manager at Teledyne Geospatial, will present Introducing Geospatial Work, That Flows
On Feb 13, 4:00 PM – 5:30 PM in room 605 attend the session titled Advances in Topobathymetry and Coastal Mapping. Don Ventura, Product Manager at Teledyne Geospatial will present Hurdles and Holes: Considerations and Solutions in the Maturation of the Bathy Lidar Workflow