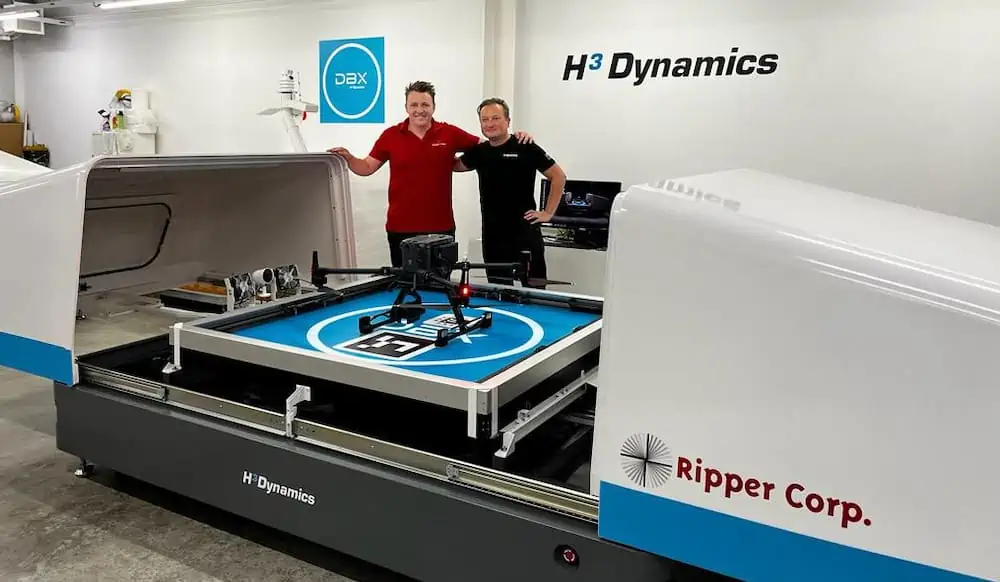 H3 Dynamics and Ripper Corporation have entered into an exclusive strategic partnership agreement to enhance Ripper's operational drone offering by integrating H3 Dynamics' rapid-response DBX drone stations.
Aerial mobility and hydrogen aviation company H3 Dynamics and Ripper Corporation, a drone and tech company specializing in complex flight operations, search and rescue, drone pilot training and technology development, began their partnership in May 2022 in Australia.
This multi-year distribution and technological agreement will see Ripper Corporation deploy H3 Dynamics' DBX G7 (Dronebox 7th Generation) advanced vertiport system for autonomous drone operations in Australia.
The DBX G7 will be compatible with Ripper's customized drones and H3 Dynamics will leverage its global distribution network to offer Ripper Corporation drone solutions to international markets.
The DBX-G7 can function like an onsite drone pilot: navigating, docking, battery charging, data retrieval, transmission, and cloud-based processing, with all those operations being autonomously and remotely operated. H3 Dynamics believes this can help to alleviate pressures from labor shortage and costs as it reduces the need for onsite presence. The multiple layers of safety features built-in with the DBX-G7 are key to secure Beyond Visual Line Of Sight (BVLOS) approval from Australian Civil Aviation Safety Authority (CASA), led by Ripper Corporation. 
"The addition of Ripper Corporation to our list of global strategic partners demonstrates the hyper-growth seen in the digitization of unmanned aviation systems space around the globe in general and in Australia in particular," said Taras Wankewycz, CEO H3Dynamics. "With Ripper Corporation, we are extremely honored to collaborate with a partner who plays such an important role in ensuring the safety of the community through the use of innovative technology."
Ripper Corporation has worked with local, state and federal government bodies, using search and rescue drones in Australia for surf life saving, crocodile and shark protection and mitigation strategies and koala preservation. Ripper's business partner, the Surf Lifesaving Queensland organization, uses Ripper craft over its coastline that stretches 6,967 kilometers to not only save lives and protect but to perfect Artificial Intelligence (AI) applications, innovations, data collection and piloting skills. 
"We know from our past 6 years of in field experience, drones bring efficiency to time-sensitive situations such as dropping lifesaving devices to drowning swimmers; or issuing warnings in shark or crocodile sightings; or assessing damage and assistance required during bush fires," said Jason Young, CEO Ripper Corporation. "Adding the DBX-G7 to our solutions can only enhance the support we can provide to our clients in such situations. This goes in line with our project of Beach of the Future where Technology can play a key role in saving lives."
Ripper Corp and Western Advance will be conducting the first Australian demonstration of DBX-G7 in Perth, October 24-28, 2022.