Knight Optical has launched a new range of Stock and Custom Fluorescence Filter Sets designed for fluorescence imaging applications that demand ultra-precision Filter Sets for high-efficiency transmission.
In the article below, Knight Optical discusses its new product offering and runs through the indispensable technicalities behind the sets.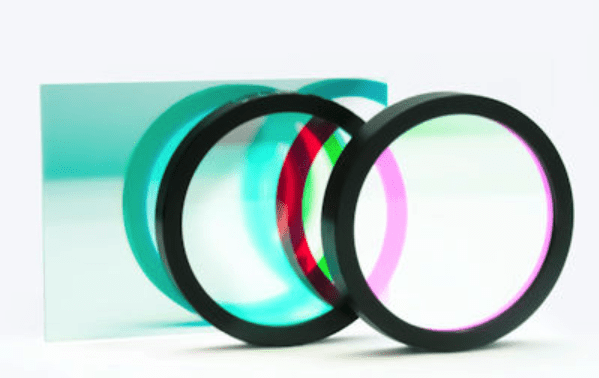 ---
Filters and Sets to Meet Every Application's Needs
As a set of optics that are typically used for fluorescence applications within fields such as biology, materials science, chemistry, medical diagnostics, and mineralogy; for example, specification variation was of the utmost importance when developing this range.
We understand that there's no universal approach to specifying most optical components for many applications; however, when it comes to medical applications, that importance elevates. Therefore, to meet the necessities of a diverse range of customers, Knight Optical is offering its Fluorescence Filter Sets in a range of types to help meet all requirements.
The set includes three Filter types:
An Excitation Bandpass Filter
An Emission Bandpass Filter
A Dichroic Beamsplitter
Altogether, seven sets are available, each of which targets a different range of fluorophores (working to their excitation and emission wavelengths). For example, fluorophores that our sets are compatible with include:
DAPI
CFP
FITC
TRITC
YFP
CY5
ROX
Typical Applications
The main application for these sets is fluorescence imaging, which can be broken down into the following usual subcategories:
Fluorescence microscopy
Fluorimeters
Polymerase chain reaction (PCR) diagnostics
Thanks to its high signal-to-noise ratio, fluorescence is relied upon for many diagnostics projects, and it's pushing the boundaries of what's possible. It's proven itself as a highly beneficial element in helping to develop drugs and plays a part in cancer research in immunotherapy and immunology projects, to name a few examples.
More specifically, here are some recent fluorescence projects that have hit the headlines, some of which have influenced the product development of this range.
Oncology
Fluorescence is extensively used in this branch of medical prevention, diagnosis, and treatment.
Breast Cancer:This year, fluorescence-guided imaging has shown potential in improving intraoperative detection of residual breast cancer in women undergoing lumpectomy1. This study came about because, as Shelley Hwang, MD, MPH, of Duke University in Durham, North Carolina, explains, around 10 to 40% of patients need a second or third surgery to clear positive margins. Shelley goes on to exemplify that it's complicated to remove lumpectomy margins in these surgical instances and explains that this "system, which incorporates the activatable fluorescent imaging agent pegulicianine (LUM015), had higher sensitivity, though lower specificity, than standard pathology review of the main lumpectomy specimen". 
Head and Neck Squamous Cell Carcinoma (HNSCC) and Cutaneous Squamous Cell Carcinoma (cuSCC): In February, phase two of an ambitious study launched to investigate photoimmunotherapy treatment and fluorescence imaging for patients with HNSCC and cuSCC, the latter of which has been reported as the second-most common form of skin cancer2. The trial seeks to investigate Shimadzu's fluorescence imaging system as an option for "real-time monitoring and recording of fluorescence of the IRDye 700DX…(a light-activatable dye)…portion of ASP-1929…(an antibody-dye conjugate with Erbitux (cetuximab)3." As Cure Today explains: "The conjugate works by binding to epidermal growth factor receptor (EGFR) — a cancer antigen expressed in multiple types of solid tumors — and then being locally activated by non-thermal red light illumination given from a laser device system3."
Disease Analysis
The Malaria Parasite: In a recent study published only last month, researchers used live-cell fluorescence imaging to conduct a framework that investigates in-depth microgametogenesis processes (modification of a male gametocyte into microgametes) in the human malaria parasite. As the authors explain in their abstract: "Our live-cell approach captured early microgametogenesis with three-dimensional imaging through time (4D imaging) and microgamete release with two-dimensional (2D) fluorescence microscopy4." They go on to explain that their data demonstrated "the utility of using live imaging to validate potential targets for transmission-blocking antimalarial drug development4".
COVID-19: Restrictions may have been reduced, and for some, 'coronavirus' may be a term that's almost a distant memory. However, in the scientific realm, it's an illness that isn't going anywhere anytime soon. Of course, throughout the pandemic, fluorescence-based research would have been used extensively. In the most recent research papers news, it's been used on a project that explores 'a rapid antigen test of SARS-CoV-2 nucleocapsid protein by using an electrical-double-layer gated field-effect transistor-based biosensing system'5. To give the first half of its title, the 'Saliva-based COVID-19 detection' involved the use of a fluorescence microscope (namely Leica Microsystems #DM2500 LED).
Keeping Up with the Industry
As a key player in the field of components for medical devices, we take it upon ourselves to keep abreast of ongoing advancements within this innovative sector, as well as all the sectors in which we operate. It is this initiative that stands us in good stead to advise and supply our optical components to some of the world's most influential companies and organisations and provides us with the ability to identify the next steps in today's innovative worlds of science and technology.
Knight Optical's Ever-Evolving Product Development Process
A vital member of Knight Optical's team, Helen Derbyshire, Product Developer from our UK division, is responsible for the successful rollout of the optics supplier's new range. Having worked at the company for 8 years and with a BSC degree in Forensic Chemistry, Helen, who is proud to be a part of the five-strong team of women who work in STEM at Knight Optical, is highly enthusiastic about the new product announcement.
She says: "Since starting my new role as Product Developer for Knight Optical, I've looked at what new product ranges we should add to our catalogue to benefit our customers. Fluorescence Filters are components that Knight Optical have often advised on for custom orders, but it isn't until now that we have added our own stock range so that we can provide high-quality filters with even quicker turnaround times. Each set has been expressly designed to work with a certain group of fluorophores whilst eliminating any unwanted transmission. I believe these will be an excellent solution to a lot of our customer's specific needs!"
With so many fluorescence-focused approaches to diagnostics, analysis, and so much more, we're excited to be entering the market with our wide-ranging set of Fluorescence Filters and look forward to learning about more projects that are on the horizon.
Why Choose Knight Optical for your Application?
Discerning customers rely on Knight Optical not only for the premium quality of our output and in-house state-of-the-art Metrology Laboratory and QA Department's capabilities but because – as well as a range of Stock Optics (available for next-day dispatch) – we also offer our optics as Custom-Made Components.
Last year, we celebrated 30 years in business. With over three decades' experience under our belt and a whole host of long-standing world-renowned customers on our books, we are proud to have worked on some of the most ground-breaking innovations.
FOOTNOTES
1https://www.medpagetoday.com/hematologyoncology/breastcancer/97635
2https://europepmc.org/article/med/19256304
3https://www.curetoday.com/view/photoimmunotherapy-trial-begins-in-certain-patients-with-head-and-neck-and-skin-cancer
4https://journals.plos.org/plospathogens/article?id=10.1371/journal.ppat.1010276#abstract0
5https://www.sciencedirect.com/science/article/pii/S0925400522000570