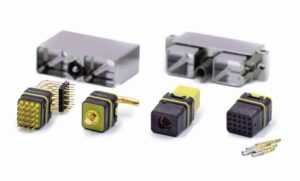 Nicomatic has confirmed that it will be showcasing its extensive portfolio of modular, highly-configurable and custom interconnects at DSEI 2021. The company specialises in micro connectors for civil and military aerospace applications such as UAVs (unmanned aerial vehicles), and has a proven track record of innovation and customer problem-solving with over 40 years of experience.
The company will also be launching its new DBMM Series at DSEI. The DBMM Series is a variant of Nicomatic's DMM 2mm connectors featuring fully integrated backshells. The connectors measure only 15mm front to back, are easy to handle and offer excellent EMI protection. Qualified to MIL-DTL-83513, two models are available: DBMM220 (4 to 32 contacts) and DBMM320 (6 to 48 contacts). They suit high power and high frequency applications such as military UAVs.
Nicomatic will be also be showcasing its aero modular EN4165 Optimus connector, a versatile low-profile, user-configurable rectangular I/O connector series offering high density and space-saving compared to circular connectors. Designers can specify the layout they require, including signal and power contacts. Able to withstand 500 mating and de-mating cycles, high shock and vibration and extreme temperatures, Optimus interconnects provide excellent protection against EMI and are waterproof. Fully interchangeable with existing EN4165 solutions, Optimus connectors are a space-saving and stackable solution designed for equipment interface connection to a harness or in rack & panel installations.
Easily customizable thanks to Nicomatic's modular manufacturing capabilities, the company's miniature connectors deliver excellent performance and can be stacked closely together to minimize PCB space. Also being showcased at DSEI are the 1mm pitch nano density AMM Series, rated for 15G vibration, 100G shock and operating temperatures between -65degC to 200degC, plus the 1.27mm pitch EMM Series, which meets the performance requirements of MIL-83513 and is 20% smaller than standard Micro D connectors. Featuring integrated 90° back protection and reversed contacts, EMM connectors suit board-to-board and board-to-wire configurations in any pin selection from 4 to 60 signal contacts.
Nicomatic will also demonstrate its capabilities in cabling solutions, including the Microflex Hi-Rel Flexible Harness for high vibration environments.