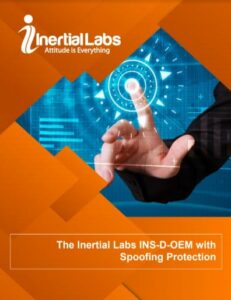 Inertial Labs has released a whitepaper outlining the basics of GNSS spoofing and how to detect and protect against it. GNSS spoofing attacks, in which GNSS receivers are made to receive false data, can be a serious threat to the operations of drones and other robotic systems that require reliable position, navigation, and timing (PNT) data.
Download the full whitepaper here
The whitepaper covers:
What GNSS spoofing is
Categories of GNSS spoofing attack – non-overlapped, overlapped and relative power
Methods for detecting GNSS spoofing
Dangers of GNSS spoofing
Protection against spoofing
Inertial Labs' INS-D-OEM is a GNSS-aided INS that features a state-of-the-art dual-antenna Novatel OEM7220 GNSS receiver with a spoofing detection unit that minimizes false detection likelihood from the presence of jamming and multipath signals, while identifying spoofing attacks with a high degree of certainty. To find out more, download the full whitepaper here.