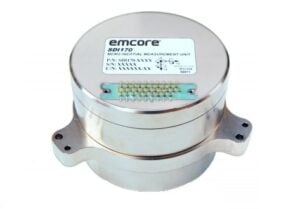 EMCORE Corporation has introduced the new SDI170 Quartz MEMS (Micro-Electromechanical Systems) tactical-grade inertial measurement unit (IMU), an ITAR-free product designed for high-precision commercial and defense applications such as UAVs (unmanned aerial vehicles, ROVs (remotely operated vehicles) and other unmanned and autonomous systems.
The SDI170 has been engineered as a form, fit, and function compatible replacement for the HG1700-AG58 Ring Laser Gyroscope (RLG) IMU, but with enhanced performance, versatility, and a significantly higher MTBF (Mean Time Before Failure) rating over ruggedized environments. With no wear-out components, the unit is ideal for long-life continuous use applications and delivers highly linear accelerometer performance.
The SDI170 IMU performs in highly dynamic ±1,074 deg/sec and ±50 G standard (±70 G optional) linear acceleration conditions and delivers 1°/hr gyro bias and 1 mg accelerometer bias stability with very low 0.02°/√hr Angle Random Walk (ARW) over a wide -55 °C to +85 °C temperature range in vibration environments. The ARW performance of the SDI170 is five times better than the legacy RLG IMU it is designed to replace, and its tactical performance is based on the dependable, accurate quartz MEMS inertial sensor technology in EMCORE's SDI500 tactical-grade IMU 1. EMCORE's quartz technology enables repeatable high-volume production of precisely machined sensor structures combined with the inherent large signal output and thermal stability of quartz materials.
The new IMU communicates using the high-speed SDLC protocol over the industry-standard RS-422 electrical interface, providing seamless compatibility and high-precision performance. With continuous BIT (Built-in Test) monitoring and EMI (Electromagnetic Interference) protection designed into a compact 33 cubic inch package, EMCORE's SDI170 will provide reliable 20-year operating and storage life without calibration in demanding, mission-critical environments.
David Hoyh, EMCORE's Director of Sales & Marketing for navigation products, commented: "The introduction of the SDI170 IMU marks a significant milestone in the industry and for EMCORE. Now customers everywhere in the world have sourcing options for this widely used tactical performance package. The SDI170 IMU enables us to deliver higher performance at lower cost to the market in a form-factor and electrical interface that is a seamless replacement for an older technology legacy RLG IMU."