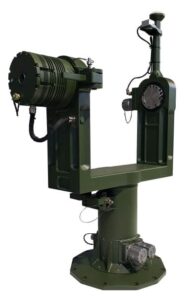 UAVOS has launched a new two-axis pan-tilt platform designed to support payloads weighing up to 130 kg on real-time long-range observation stations such as counter-drone systems. The PPT140 has been engineered to withstand harsh environmental and weather conditions, and provides up to 360˚ tilt movement.
The PTP140 is based around UAVOS' Xservo-series actuator, designed to provide high accuracy and high torque at a low weight. The system's advanced built-in control electronics and algorithms provide precise, smooth motion at all speeds, while an integrated slip ring allows continuous rotation of the pan axis. The platform can carry up to 60 kg of custom payloads such as EO/IR sensors and antennas under full dynamics, and 130 kg under limited dynamic. The versatile system is ideal for a wide range of applications such as defense, homeland security, and critical site protection.
The body of the unit is made of high-quality painted aluminium or an optional saltwater-resistant aluminium alloy for use in marine environments. Featuring rugged hermetic circular military connectors, the PTP140 is waterproof and dustproof to IP65 standards.
Aliaksei Stratsilatau, CEO and Lead Developer at UAVOS, commented: "We are proud to introduce the new Pan Tilt Platform, developed by UAVOS for a wide range of standard and special applications, for unmanned and manned platforms, in industrial, automotive, aerospace, scientific as well as in security environments. The unit has advanced features such as continuous rotation, built-in Ethernet, CAN, RS485/422 interface, support CANopen protocol and EtherCAT technology, absolute position support, position velocity feedback, slow and high speed precision control, different sets of end-to-end signals from base to payload, including optical channels for many specific applications."
Watch a video of the new pan-tilt platform below: