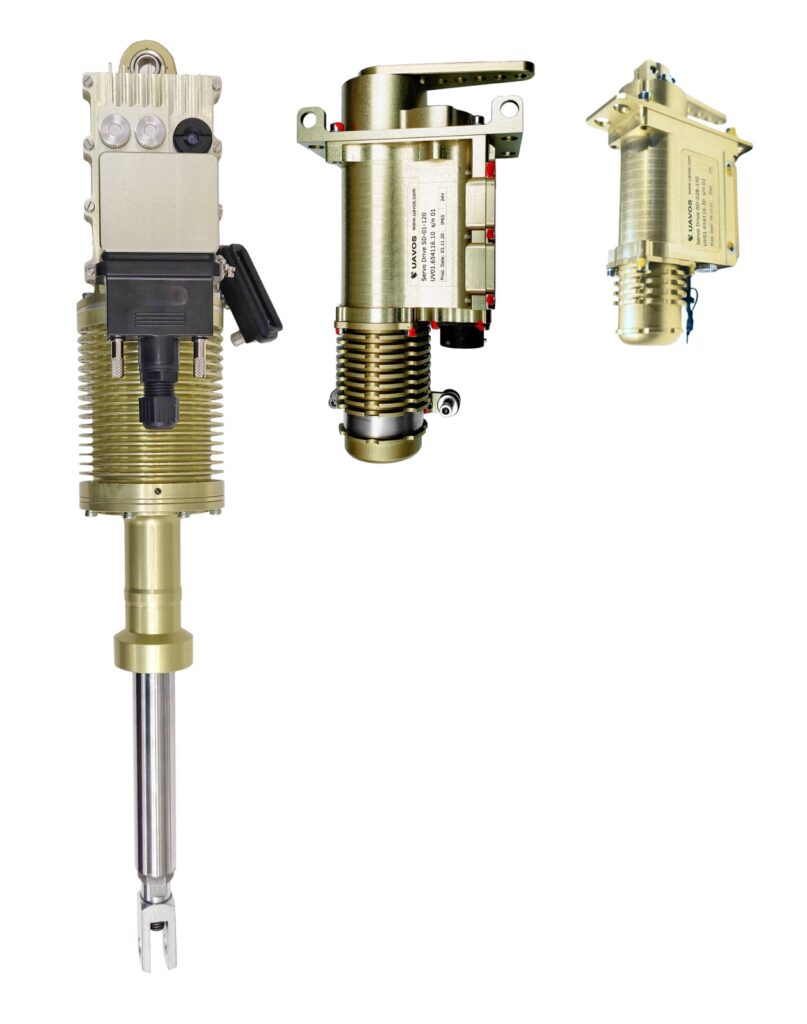 UAVOS has completed installation and site acceptance testing of its servo drives for Medium Altitude Long Endurance (MALE) aircraft flight control. 
As part of heavy-lift unmanned aircraft development, 15 pieces of both Rotary Actuators & Linear Actuators types have been installed into the aircraft flight control system.
With UAVOS' actuators, MALE UAS operators can rely on actuation capabilities that meet the highest safety and reliability requirements. The advanced actuators extend the MALE unmanned aircraft reliability and safe steering while further increasing their operational flexibility.
Four UAVOS Linear Actuators ensure reliable and safe command of the flight control surfaces, wheels, brakes, flaps, and air brakes on the unmanned aircraft. 
The key capabilities of the Linear Actuators include:
Speed, 100 mm/s
Rated push load, 1000 N
Rated pull load, 1000 N
The Rotary Servo Actuators feature brushless DC motor-controlled high-performance FOC servo drive and contactless multiturn absolute position sensor. The devices feature feedback mechanisms for several diagnostic data such as the supply voltage level, current consumption, torque and the temperature of the motor and electronics in digital form.
All UAVOS' actuators are based on the quality standards and meet regulations regarding electronics (DO 254), mechanics and software (DO 178C). The servos achieve DAL B (Design Assurance Level – B). The high-quality construction with hardened steel gears and aluminum housing are rated to IP66.
UAVOS' drone actuators are designed to meet the dynamic motion requirements of UAVs and are engineered to withstand harsh environments and conditions involving high shock and vibration, as well as EMI/EMC interference.
"We take our designs from conception through testing under our own roof as we feel this is the best way to ensure quality for our customers," said UAVOS Co-Founder and CEO Aliaksei Stratsilatau. "Our incentive is to meet most of our customers' requirements, and this is why we constantly invest in our R&D capabilities and keep our eyes open on the market."