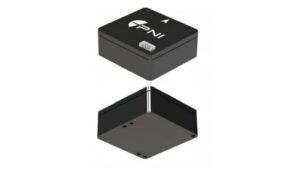 PNI Sensor has launched a new gyro-stabilized digital magnetic compass that combines high-sensitivity magnetometers with a high-stability 3-axis MEMS accelerometer and 3-axis MEMS gyroscope to provide accurate heading and orientation for UAVs (unmanned aerial vehicles) and robotics in any environment.
Providing high accuracy even under motion and in magnetically challenging environments, the ITAR-free TargetPoint TCM excels in conditions that cause errors in traditional digital magnetic compasses. It uses advanced magnetic distortion compensation and calibration scoring algorithms to counter the effects of hard and soft iron interference.
The unit's patented magnetic anomaly rejection algorithms eliminate errors due to magnetic distortion, and the compass achieves dynamic heading and tilt accuracy of sub-0.5 degrees. Multiple calibration methods are available to ensure ease of calibration for all applications.
To find out more about the new TargetPoint TCM gyro-stabilized digital magnetic compass, download the data sheet here.