PNI Sensor, a leading developer of sensor modules for UAVs (unmanned aerial vehicles) and robotics, has partnered with Unmanned Systems Technology ("UST") to demonstrate their expertise in this field. The 'Silver' profile highlights how their high-accuracy AHRS modules, motion tracking, heading and orientation sensors provide unparalleled accuracy and reliability across a wide range of demanding conditions and environments.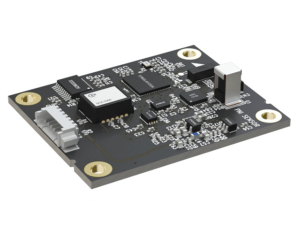 TRAX2 is a high-accuracy AHRS (Attitude and Heading Reference System) and digital compass module that provides superior heading and orientation under a wide range of demanding conditions – indoors or outdoors, static or dynamic, in canyons or under dense canopy, or in GPS-denied environments.
Combining PNI's high-sensitivity magneto-inductive sensors with high-stability 3-axis MEMS gyroscopes and accelerometers, TRAX2 provides accurate heading, pitch and roll information under dynamic motion – even when GPS in unavailable or compromised. TRAX2's patented magnetic anomaly rejection algorithms automatically isolate the earth's magnetic field from other stray magnetic fields enabling accurate heading in any environment.
The module can be operated in two modes – AHRS or digital compass. In AHRS mode, TRAX2 incorporates PNI's 15 state Kalman filter with user-adjustable knobs to optimize the algorithms for specific applications and conditions such as UAVs, ground robotics and surface and subsea vessels. The SWaP-C (size, weight, power and cost)-optimized TRAX2 is calibrated via multiple methods to ensure accuracy over a variety of military, industrial, scientific and marine, and is ITAR-free.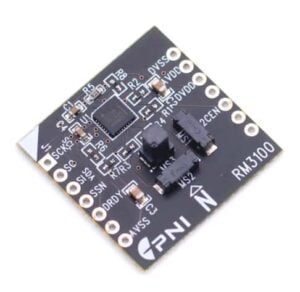 The RM3100 geomagnetic sensor provides precise compass heading and magnetic field measurements for drones, robotics, manned and unmanned vehicles. Based on PNI's proprietary magneto-inductive sensor technology, which provides high resolution, low power consumption, no hysteresis, large dynamic range, and high sampling rates, the RM3100 is ideal for applications requiring precise compass heading and precise magnetic field measurements. It delivers over 10 times better resolution and over 20 times lower noise than leading Hall Effect sensors and measurements are highly stable over both temperature free of offset drift.
The RM3100's high sensor sample rate and precise magnetic field measurements enable accurate sensor fusion algorithm development for any application. For design flexibility, the RM3100's MagI2C features both continuous measurement mode and single measurement polling and software-configurable resolution.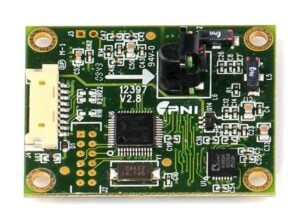 The TCM tilt-compensated compass modules combine magneto-inductive sensors with a 3-axis MEMS accelerometer and provide high-accuracy pitch, roll and compass heading in GPS-denied environments at all latitudes around the globe. Delivering superior performance with low power requirements, the TCM modules feature four user-selectable calibration modes, as well as the ability to recalibrate the accelerometers, ensuring long-term performance in the field.
Ideal for target location and rangefinding applications, the TCM modules are available in two different form factors with TTL or RS232 interfaces.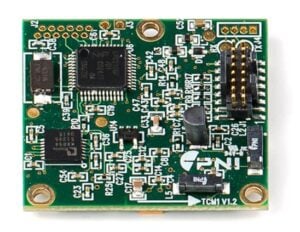 Prime is a low-cost, high-performance 3-axis compass module delivering 1° heading, pitch and roll accuracy and 0.1° heading resolution. It features advanced hard and soft iron correction algorithms that compensate for magnetic distortions, resulting in reliable and consistent compass heading accuracy, and offers several user-programmable parameters including output damping rates, reporting measurement unit selection and sampling rate configuration.
Prime incorporates multiple user calibration algorithms available to the user to achieve effective calibration with limited system or device movement. Consuming less than half the power of magneto-resistive-based compasses, Prime is ideal for cost-sensitive robotics designs such as ROVs and UGVs.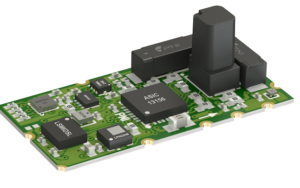 PNI's Motion and Measurement (M&M) modules combine high-performance magnetic sensors and MEMS motion sensors with ultra-low-power motion coprocessors to deliver accurate motion tracking, heading and orientation data.
Featuring embedded sensor fusion algorithms, the ready-to-integrate modules require no user calibration and allow developers to focus on creating innovative new designs and applications.
To find out more about PNI Sensor and their sensor technologies for unmanned systems and robotics, please visit their profile page:
https://www.unmannedsystemstechnology.com/company/pni-sensor/