UXV Technologies, a leading developer of professional agnostic robotic technologies for UAVs (unmanned aerial vehicles), UGVs (unmanned ground vehicles) and UUVs (unmanned underwater vehicles), has partnered with Unmanned Systems Technology ("UST") to demonstrate their expertise in this field. The 'Platinum' profile highlights how their products can enhance the capabilities of a wide variety of robotic platforms and provide systems integrators with trusted solutions, allowing them to focus on their core business.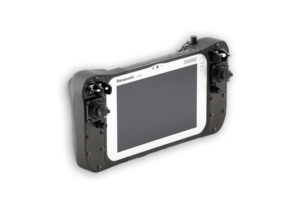 The Micronav GCS is based on the Panasonic FZ-M1, a military-grade MIL-STD-810G and IP65-rated tablet designed for remote vehicle control in even the harshest environments. It features a daylight-readable, high-sensitivity, multi-touch display that can be operated while wearing heavy gloves.
The Micronav Android is built on the military-grade Panasonic FZ-B2 Android tablet, and like the Micronav GCS it features a drop-resistant MIL-STD-810G and IP65-rated design for reliable operation in challenging environments. It incorporates a daylight-readable, high-sensitivity, multi-touch display that can be operated while wearing heavy gloves. This enables the Micronav Android to work even in the most restrictive scenarios.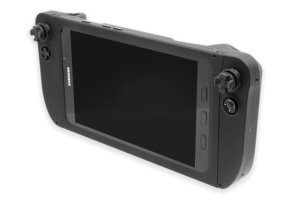 The Navigator Tab2 is provided as a standalone docking extension to the Samsung Galaxy Tab Active2 tablet, featuring fully-customizable joysticks and buttons. It supports UXV Technologies' NavBay platform, allowing users to easily interchange leading makes of radio such as Doodle Labs, Silvus Technologies and Persistent Systems.
The Aeronav is a professional GCS for drones and robotics, based around the Panasonic Toughpad FZG1 military-grade tablet. The versatile, fully customizable unit is ideal for a wide variety of field environments including industrial, defense and construction applications.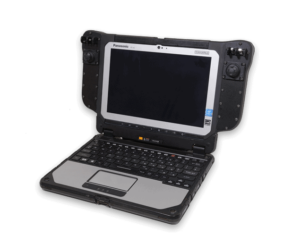 The C2Nav is a hybrid ground control station for UAVs and unmanned systems, with a detachable keyboard for flexible mobile operations. Based around the rugged Panasonic CF-20 military-grade tablet, the C2Nav features a high degree of customization, from joysticks and buttons to extra memory and processor power.
The Navigator 10 is a budget-friendly, scalable command and control platform for drones and robotics, available as a standard off-the-shelf product with Windows or Android operating system, or as a fully customizable version. Navigator 10 is compatible with our NavBay platform for plug-and-play utilization of leading radio systems.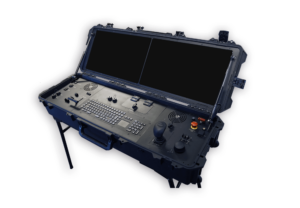 The G2Nav is a powerful high-performance GCS for professional drone and robotics platforms, featuring two 21.5-inch screens, a built-in keyboard, and multiple configurable buttons, joysticks and switches. The highly customizable platform is built on an Intel-based computer running Microsoft Windows or Linux.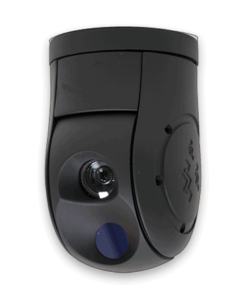 The Øi Lite is a high-performance, low-SWaP (size, weight and power) visible and thermal camera gimbal for professional UAV platforms. The agnostic gimbal has been designed for easy integration with a wide variety of drone platforms and can be connected via Ethernet and controlled through CAN and UART.
The Øi Lite combines a Full HD RGB camera featuring up to 10x zoom with a 640×512 FLIR Boson thermal camera that delivers frame rates of up to 60 Hz. The gimbal is ideal for capturing and recording vital detail under even the most difficult lighting conditions, and utilizes a built-in video encoder for advanced image processing functionality.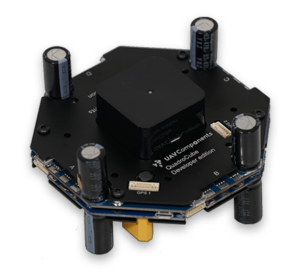 Quadrocube is an advanced field-oriented control (FOC) electronic speed controller (ESC) that can be easily integrated into UAVs and drones. The reliable, high-efficiency module integrates four powerful motor controllers with state-of-the-art sensorless FOC for a fast, precise control loop.
Featuring seamless integration with the Pixhawk 2-based Cube autopilot, as well as with radio links and an optional companion computer, QuadroCube also offers extremely low heat production and acoustic footprint.
To find out more about UXV Technologies and their ground control stations, gimbals and ESCs for UAVs and unmanned systems, please visit their profile page:
https://www.unmannedsystemstechnology.com/company/uxv-technologies/