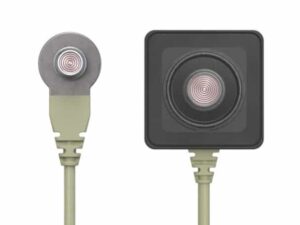 Wearable connectivity solutions are now easier to integrate into flexible structures using Fischer Connectors versatile plug & use Fischer Freedom™ Series.
The enhanced integration capability Fischer Freedom™ Series has been extended with new products and accessories allowing design engineers to further optimize cable management in line with their SWaP (size, weight and power) requirements. Low-profile connectors, cable assemblies and active devices can now be easily integrated into a broad range of materials, including flexible of fabrics.
The rugged sewing junction of the new Fischer Freedom™ Quick Detach System enables easy conversion into flexible material such as; heavy duty tarp cover/tent, sail, vehicle tire blankets, smart backpacks. The system's adapter and retaining ring facilitate the quick fit and interchange of receptacles.
The new Fischer Freedom™ cabled receptacle in size 08, is a smaller version of the receptacle introduced to the market last year. With a metal housing, four signal and power contact tracks, IP68 sealing and EMI shielding, this new cabled receptacle is:
Ready to use under any conditions,
Easy to integrate into garments or mount on panels,
Quick to fit and remove
The multiple award-winning Fischer Freedom™ technology platform enables design engineers to integrate more technology and functionality into fixed, portable or wearable devices and ecosystems in markets such as: defense & security, medical, instrumentation, industrial and civil engineering, robotics, wearables, the Internet of Things (IoT).