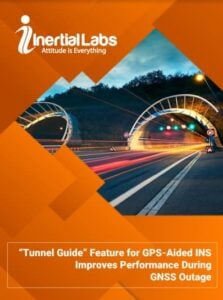 Inertial Labs has released a case study outlining how an advanced Tunnel Guide algorithm developed by the company enhances the performance of the INS-B GPS-aided inertial navigation system during prolonged GNSS outages.
Inertial navigation systems estimate position, attitude, and velocity using gyroscopes and accelerometers contained inside an inertial measurement unit (IMU). The position accuracy of an INS can be greatly improved with aiding data from a Global Navigation Satellite System (GNSS) such as GPS. However, GNSS signals are not always available, with outages being caused by tunnels, bridges, urban canyons and other obstructions.
During these outages, uncorrected IMU bias instability and noise will cause drift, with a typical MEMS-based IMU drifting by thousands of meters over 20 minutes of GNSS outage. To compensate, Inertial Labs developed the Tunnel Guide feature for its GPS-aided INS, implementing continuous dynamic modelling for motion of land vehicles such as unmanned round vehicles (UGVs). Using this algorithm, the INS is able to mitigate error and increase the accuracy of the MEMS IMU during prolonged GNSS outage.
The case study shows results with two sets of sample data that were gathered during GNSS outage tests, the first on a highway driving at an average speed of 60 mph (96 km/h), and the second in a city environment at an average speed of 25 miles per hour (40 km/h) with frequent turns. For the first test, an approximate drift rate of 0.4% of Distance Travelled (DT) for a 25-minute outage was calculated, and for the second, 0.2% DT was achieved over the course of a 30-minute outage.
These results show that the Tunnel Guide feature significantly improves performance accuracy during GNSS outages, at a much lower cost than using a high-grade ring laser gyro INS in place of a MEMS system. To find out more about Inertial Labs' Tunnel guide feature and its GPS-aided INS, read the full case study here.