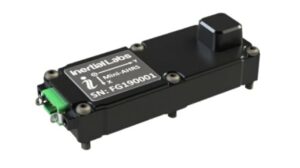 Inertial Labs has launched the MiniAHRS, a miniature attitude and heading reference system designed to provide absolute orientation for UAVs (unmanned aerial vehicles) and other unmanned systems. It combines three axes each of precision accelerometers, magnetometers and gyroscopes to provide high-accuracy heading, pitch and roll.
The MiniAHRS' use of miniature fluxgate magnetometers give it distinct performance advantages over other commonly used magneto-inductive or magneto-resistive alternatives, including highly accurate North referencing. The system features built-in state-of-the-art algorithms for the different dynamic motions of UAVs, UGVs (unmanned ground vehicles), UUVs (unmanned underwater vehicles), ROVs (remotely operated vehicles) and other robotic platforms, as well as gimbals and antennas.
The MiniAHRS is ideal for a variety of applications including drone remote sensing, in which the gathering of accurate point cloud data relies on the accuracy of orientation data, primarily heading. The MiniAHRS is also an ideal low-cost solution for precise orientation and offset angle compensation in communication hardware, such as antenna pointing applications in which the system can be used for both line of sight and beyond line of sight applications.
Specifications of the MiniAHRS include:
Heading Accuracy: 0.3 deg static/0.6 deg dynamic
Pitch & Roll Accuracy: 0.1 deg static/0.2 deg dynamic
Gyro bias in-run stability: <4 deg/hr
Accelerometer bias in-run stability: 0.005 mg