Southwest Antennas, a leading designer and manufacturer of high-performance RF antennas and accessories, has partnered with Unmanned Systems Technology ("UST") to demonstrate their expertise in this field. The 'Platinum' profile highlights how their radio-agnostic antennas can be deployed on unmanned and autonomous systems for military, defense, law enforcement, homeland security, broadcast video, and many other applications.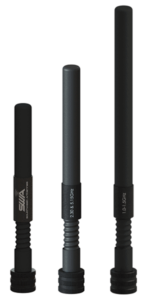 Ultra-Flex Omni Antennas are designed to offer high-performance communication in a small package, ideal for unmanned ground systems. These antennas feature an integrated sealed spring base which can bend ±90 degrees from vertical, reducing the risk of damage to the antenna or mated radio RF connector if the antenna is struck by another object. This feature is especially well-suited to ground robotics platforms which may encounter low-hanging obstacles while in operation.
Ultra-Flex antennas are also deployed on UAV systems with the ground clearance and payload capacity to support external antennas. They are available from 902 MHz to 6,000 MHz in a variety of band and RF connector options. When mated to a waterproof RF connector, they are also waterproof to depths of 20 meters.
Southwest Antennas' gooseneck omni-directional antennas are widely deployed on unmanned ground systems, handheld control units and radio systems, and ground control stations. The integrated RF coaxial gooseneck base allows the antenna to bend and hold non-vertical angles, which is particularly important on handheld controllers or other radio systems that are not resting on a flat vertical surface.
Custom slant angles can also be deployed when these antennas are used in MIMO and MANET mesh radio systems, delivering enhanced polarization and spatial diversity, especially in environments where multipath propagation can be utilized.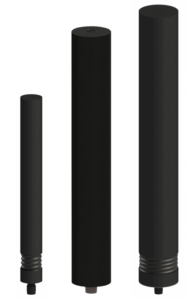 Cylindrical sector antennas are ideal for use on base stations for control and communication with aircraft at a distance or near the horizon, and are often deployed with other omni-directional antennas.
These directional sector antennas are housed in a compact, cylindrical radome which makes them easy to transport and set up. An arrow on the top of the radome denotes signal transmission and reception direction.
Southwest Antennas' line of omni-directional antennas has been specifically engineered for use with multi-port MIMO / MANET radio systems. These antennas feature slant left and slant right polarization, improving polarization diversity and performance in high multipath environments, while a variety of mounting options and choice of two or four ports provides operational flexibility.
The size of these antennas makes them suitable for unmanned and autonomous ground systems, base stations, fixed site infrastructure, or for use on larger UAV systems.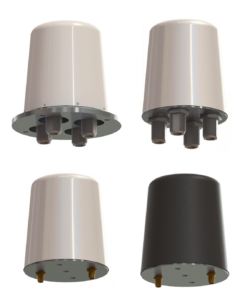 Multi-port sector antennas for MIMO and MANET systems are also available, providing focused sectorial area coverage. Ideal for ground control systems or other fixed site infrastructure, these antennas are available with beamwidths from 60° – 120°, and in two, three, or four port variants.
Southwest Antennas offers a wide range of filter options for environments where interference from nearby transmitters may be causing issues for vehicles or control systems. The compact, robust filters allow for all-weather operation and are bi-directional for installation in either direction.
To find out more about Southwest Antennas and their RF antennas for drones and unmanned systems, please visit their profile page:
https://www.unmannedsystemstechnology.com/company/southwest-antennas/