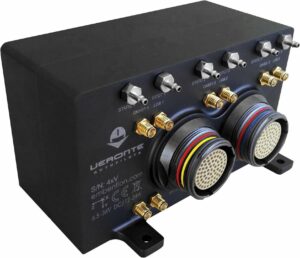 Inertial Labs has announced that its INS-P Inertial Navigation System (INS) has been fully integrated with Embention's Veronte Autopilot for unmanned aerial systems (UAS).
The INS-P is a single-antenna GNSS-aided INS designed to provide high performance in long-term GPS-denied environments. It is based around a low-power tactical-grade IMU (inertial measurement unit), developed by Inertial Labs that provides angular rate and acceleration data at up to 2000 Hz. The SWaP (size, weight and power)-optimized IMU is designed for tactical guidance, navigation, flight control, stabilization, pointing systems and a variety of other applications.
The INS-P's on-board GNSS receiver is fully configurable and capable of providing real-time position accuracy down to one centimetre. The rugged unit delivers excellent reliability and accuracy in challenging conditions such as high vibration, extreme temperatures, and tough mission profiles. The integration with Embention's Veronte Autopilot provides an ideal solution for aerial applications where autonomous unmanned flight systems are required.