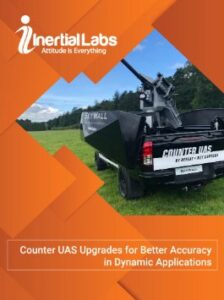 Inertial Labs, a developer of advanced inertial sensing technologies, has released a case study outlining how the company's Dual Antenna Inertial Navigation System (INS-DL) has been used to provide precision location and orientation for OpenWorks Engineering's SkyWall Auto Response counter-UAS (unmanned aerial system) solution.
Download the full case study here
SkyWall Auto Response is a mobile counter-drone system that uses sophisticated artificial intelligence (AI) techniques to identify and track rogue UAS within a restricted airspace, and launches a projectile containing a net and parachute to capture the drone and bring it safely down to the ground.
SkyWall Auto Response can be integrated with an external detection system (such as radar) to provide an end-to-end solution. The detection system cues SkyWall to the approximate direction of the drone using GPS coordinates. Inertial Labs' INS-DL provides the system with orientation and position data in response to this GPS data that allow the SkyWall vehicle to operate even under highly dynamic conditions.
To find out more about Inertial Labs' Dual Antenna Inertial Navigation System and its use in enabling high-precision counter-UAS applications, download the full case study here.