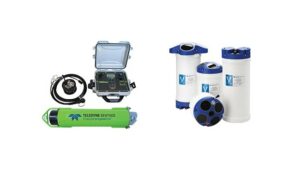 Teledyne Marine, a developer of marine instrumentation for USVs (unmanned surface vehicles), UUVs (unmanned underwater vehicles) and ROVs (remotely operated vehicles), has announced that it is accepting applications for the company's 2020 Academic Product Grant.
Aimed at student researchers from institutions that offer oceanographic and hydrographic studies, the grant will provide up to six months' free usage of one or more of a range of Teledyne Marine's products.
Read more about the grant and apply here
The Teledyne Marine products that can be applied for under the grant include:
Pinnacle ADCP – a 45 kHz phased array current profiler with a 1000m range and depth rating of 2000m
Sentinel V ADCP – a shallow to mid-water current profiler for real-time, self-contained, and moving vessel applications
R2K Acoustic Release with ReleaseIt Deck Unit – high-reliability system designed to ensure the recovery of valuable subsea instruments and data
Pathfinder DVL – a compact 600 kHz DVL for precision navigation of vehicles ranging from small inspection class ROVs to large diameter AUVs
M900 mk2 Imaging Sonar – compact 2D multibeam imaging sonar with low power requirements, delivering consistent high-quality sonar imagery over a wide field of view
SeaBat T50 Multibeam Sonar – rack-mounted multibeam sonar system with built-in INS providing fast mobilization, minimal interfacing and low space requirements
TC4013 Hydrophone – omnidirectional hydrophone with a frequency range of 1Hz to 170kHz, for absolute sound measurements and calibrations, and can also be applied as an omnidirectional reference projector
Applications will be judged on a variety of criteria, including merit of the study, feasibility of the goals and timeline, degree of innovation, and broader impacts upon the understanding of the oceans and environment. The award will be announced at the Oceanology International 2020 conference in London.
For more information and to apply for the grant, visit Teledyne Marine's website here.