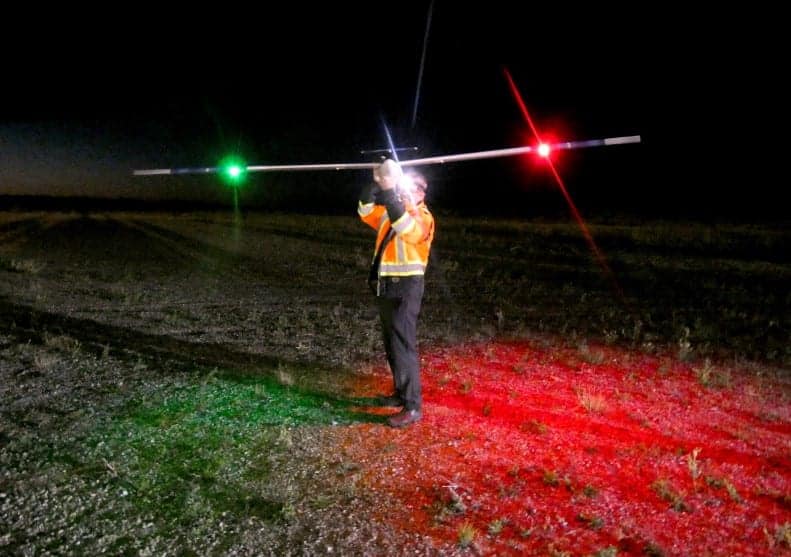 UAVOS has announced that, as part of its partnership with Earth observation services company Stratodynamics, it has performed a four hour controlled flight with its HiDRON unmanned stratospheric glider, which was released from a Canadian Space Agency (CSA) scientific gondola at an altitude of 111,434 feet (33.9 km). The glider landed at Iroquois Falls Airport, about 80 km from the launch site at Timmins, Ontario.
The night flight, which was supported by the CSA and the French Space Agency (CNES) as part of the 2019 Strato-Science Balloon campaign, demonstrated the HiDRON's beyond visual line of sight (BVLOS) capabilities. It also achieved a number of firsts in Canadian aviation – the highest altitude flight of a UAV, the first UAV to fly above 29,000 feet in Class A airspace, and the first release of a UAV from a scientific gondola in Canada.
Since the previous HiDRON flight that used a weather balloon, the aircraft's transponder, stratospheric flight controls, data links, and safety protocols have been upgraded. The drone was released from the gondola at an altitude of 111,400 feet, and performed well in difficult headwinds and -60° C stratospheric conditions.
One of the objectives of the flight was to test the AMON airglow detector payload, developed by Stratodynamics' client, the Institute of Experimental Physics at the Slovak Academy of Science. The AMON measures light given off by solar radiation ionization in the upper atmosphere, and will participate in the EUSO-SPB2 mission that will fly on a long duration NASA balloon in 2022. During the HiDRON flight, the AMON recorded single pixel data in a near-moonless night sky.
Aliaksei Stratsilatau, CEO of UAVOS, commented: "HiDRON is a real solution that advances the important research around climate change and other atmospheric chemistry problems. The HiDRON provides solutions for tough problems that affect all of humankind, which is why it is such a necessary platform for researchers."
Gary Pundsack, CEO of Stratodynamics Aviation Inc., said: "We are extremely pleased with the outcome of this pioneering flight in Canadian Aviation, and the spirit of collaboration that enabled this successful campaign. Special thanks goes to our colleagues at Transport Canada and NAV Canada who provided considerable efforts to enable these firsts in Canadian Aviation. The Canadian Space Agency and the Centre National d'Etudes Spatiales also provided great support and assistance. And thanks to the Iroquois Falls Cadet Flying site who graciously provided use of their facilities. The September 1st flight once again confirmed the STRATODYNAMICS' capability to perform high-altitude missions and beyond visual line of sight (BVLOS) operations and set a new operational best for the HiDRON's flight in challenging stratospheric environments."