Desert Rotor, a leading manufacturer and supplier of professional, portable ground control stations (GCS) for unmanned aerial vehicles (UAVs), drones and unmanned ground vehicles (UGVs), has partnered with Unmanned Systems Technology ("UST") to demonstrate their expertise in this field. The 'Silver' profile highlights how their easy-to-use ground control station platform, with HOTAS (Hands On Throttle And Stick) layout, provides an intuitive set-up that provides a high degree of control and versatility for unmanned systems.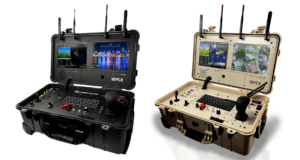 The 12PCX HOTAS HD is a fully integrated professional ground control station built around a Logic Supply embedded Intel-based PC and designed into a rugged Pelican flight case. The dual Ultra HD 1900×1200 LCD displays feature IPS (in-plane switching) technology and are fully sunlight viewable.
With the ability to quickly swap out components such as video receivers, antennas, RF transmitters, digital modems and even the embedded PC, the 12PCX HOTAS HD is a highly modular system that is easily upgraded and future-proofed. The system can interface with almost any unmanned aircraft and many autopilot systems, using either an analogue PPM radio (such as TBS Crossfire, DragonLink or RFD) or a digital radio (e.g. Silvus, Microhard).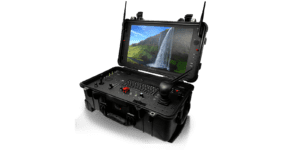 The GCS Smart View interface allows users to assign channels and functions to preferred buttons, switches, dials and joysticks via a fully interactive on-screen display overlay. This revolutionary system creates a completely configurable interface for virtually any desired platform, and also allows pilots to quickly and easily switch between multiple models of UAV and operate an entire fleet with just one GCS.
The 12PCX HOTAS HD-W is a single-screen version of the 12PCX HOTAS HD ground control station, featuring a 19" widescreen display, currently under development.
To find out more about Desert Rotor and their portable ground control stations for unmanned systems, please visit their profile page:
https://www.unmannedsystemstechnology.com/company/desert-rotor/