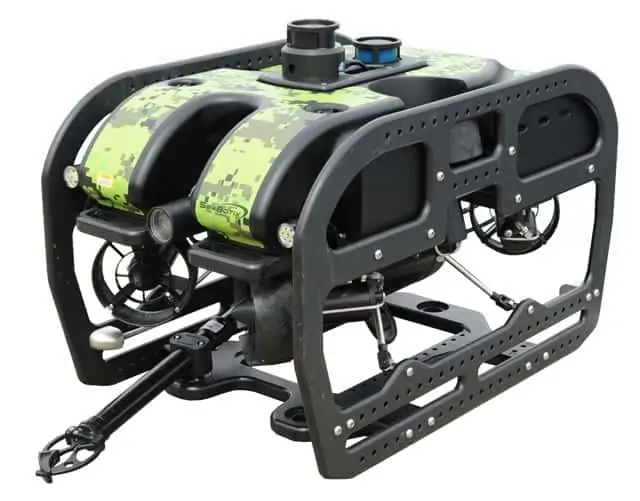 Teledyne Marine has announced that, through local partner Trust International Group (Abu Dhabi), it has delivered unmanned underwater vehicles (UUVs) to the UAE Navy to support Search and Recovery applications. The sale included both a Gavia AUV and a SeaBotix vLBV300, which will provide the UAE Navy with a highly effective rapid response capability from a low logistics AUV (autonomous underwater vehicle) and an observation class ROV (Remotely Operated Vehicle) capable of cooperative and complementary mission profiles from search/detection and classification to intervention.
The Gavia system, as delivered to the UAE Navy, is equipped with an Edgetetch 2205 scan sonar, cameras, and utilizes a high accuracy Teledyne RD Instruments Doppler Velocity Log (DVL) aided Inertial Navigation System (iXBlue) for subsea positioning. The Gavia is a modular system allowing this base configuration to be augmented at a later date as mission requirements evolve.
The vLBV300 system is equipped with a Teledyne Blueview imaging sonar, a Teledyne RD Instruments Pathfinder DVL, and the Teledyne Marine autonomous ROV navigation package – SmartFlight powered by GreenSea Systems. The navigation system adds automated functions and enhances sensor performance to the SeaBotix vLBV MiniROV. The automated navigation and single display for multiple sensors greatly reduces operator fatigue while conducting demanding missions.
The Gavia AUV is an autonomous sensor platform that is user configurable by the addition of one or more sensor, navigation, or battery modules by means of a unique twist lock system. The Gavia is a fully low logistics modular system designed to be operated from vessels of opportunity and has the greatest depth rating of any vehicle in its class. Gavia AUV systems have been utilized in real world Search and Recovery missions including the AirAsia Flight QZ8501, numerous operations from naval users, and the Icelandic Coast Guard.
The SeaBotix vectored LBV (vLBV) has the advantage of being small and lightweight, yet powerful enough to navigate strong currents while carrying a multitude of sensors and payloads. It is highly configurable both in the factory and in the field. Each of the components (i.e. thrusters, cameras, lights, electronics bottle, and flotation) is designed for easy installation or removal. This design concept allows for efficient upgrades, updates and maintenance, while minimizing down time and allowing the systems to be reconfigured and "grow" as needed.