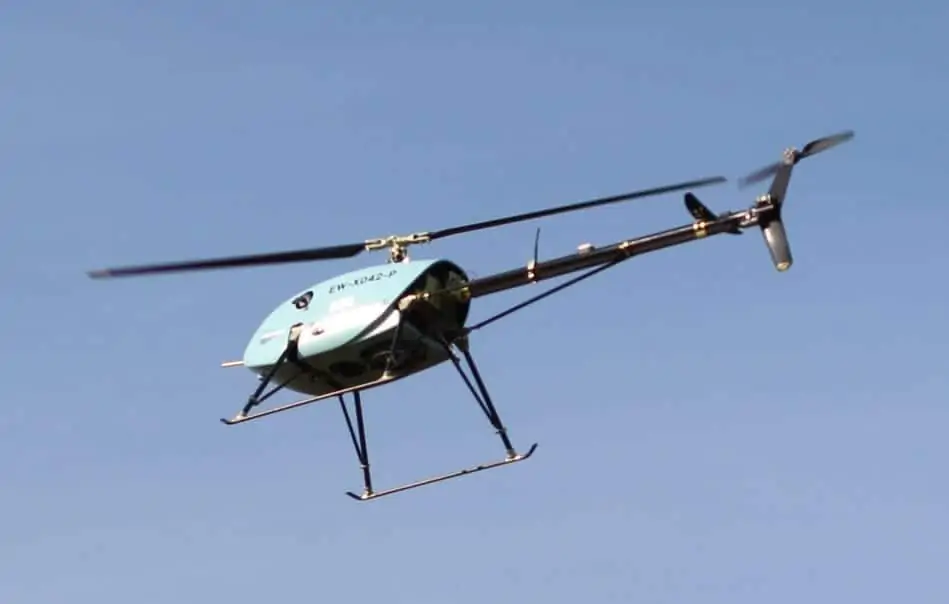 UAVOS has announced that it has successfully tested a new flight algorithm for its VTOL (Vertical Take-Of and Landing) UAVs (unmanned aerial vehicles). The new flight mode is designed to provide a high level of safety in case of failures of the UAV propulsion system during flight.
The GLIDER flight mode not only allows the unmanned helicopter to automatically switch into autorotation mode when the engine fails, but also protects the power unit from overloads during critical flight conditions. The new flight algorithm significantly improves the survivability of the UAV, thus increasing flight safety and reducing insurance costs.
The basic principle of the new algorithm is based on the priority of maintaining main rotor revolutions, to the detriment of maintaining a preset altitude in critical situations. This is achieved by redistribution of control, when the revolutions of the main rotor are not supported by the engine, and by collective pitch (change in the total elevation angle of all blades). The new autorotation algorithm is part of UAVOS' programmed Autopilot module.
Aliaksei Stratsilatau, UAVOS Сhairman of the board and Lead developer, said: "We have come to the development of a new flight algorithm while operating our helicopters. Extremely adverse meteorological conditions and flying at the limit of capacity at high altitudes cause the risk of engine failure during the mission. The new flight algorithm GLIDER gives the UAV/Automatic Control System operator additional time to launch an emergency parachute or select an emergency landing site. In addition, the helicopter can be diverted from habitable areas or man-made objects. This is especially true, for example, during missions over power lines, oil refineries, oil storages, and so on. The algorithm developed by UAVOS allows flying without a significant power reserve, which affects the duration of the mission and the amount of additional onboard fuel."
Watch a video of the flight test below: