EMCORE, a leading developer of fiber optic technologies, has partnered with Unmanned Systems Technology ("UST") to demonstrate their expertise in this field. The 'Platinum' profile highlights how their fiber optic gyroscopes (FOG), FOG IMUs (inertial measurement units) and FOG INS (inertial navigation systems) deliver superior navigation and platform stabilization for unmanned vehicle platforms, including UAVs (unmanned aerial vehicles), UGVs (unmanned ground vehicles) and AUVs/UUVs (unmanned underwater vehicles).
The EG-120 FOG module is EMCORE's smallest closed-loop FOG and the smallest, most affordable closed-loop FOG available on the market today. It features industry-leading SWaP characteristics and incorporates next-generation Field Programmable Gate Array (FPGA) electronics that deliver increased performance and reliability. The EG-120 is an ideal solution for medium accuracy platform stabilization applications such as UAV weapons and camera systems, and is also available in a low power variant.
The EG-200 is a tactical-grade FOG designed for high-accuracy navigation and low-noise line-of-sight stabilization applications. It features fully-integrated optics and digital signal processing (DSP), resulting in improved optical drift stability, higher linearity and greater environmental flexibility. EG-200 units can be calibrated internally for better thermal effect, and have both digital and analog outputs, accommodating a wide variety of installation and interfacing parameters.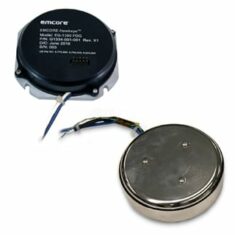 The EG-1300 is EMCORE's lowest-noise FOG, ideal for precision navigation in GPS-denied environments – such as UUVs – as well as platform stabilization. Featuring advanced integrated optics and closed-loop FPGA design, it delivers higher accuracy, lower noise and greater efficiency in a low-SWaP package. In addition to providing both digital and analog outputs, the unit features separation of the electronics from the FOG's sensing coil assembly, allowing for the most flexible installation and integration capabilities.
The EN-150 Precision Fiber Optic Inertial Measurement/Navigation Unit is EMCORE's smallest Fiber Optic Gyro-based Inertial Measurement Unit and the smallest closed-loop FOG IMU available today. This high-accuracy unit is designed to operate as both an inertial measurement unit or navigator with up to two-times the performance of competing IMUs. It is ideal for use as an inertial navigation system for UAVs, gun stabilization/targeting applications as well as navigation in GPS-denied environments. The EN-150 is a higher accuracy inertial system that is one-third the volume and weight of a legacy RLG-based IMU product with better performance.
The EN-300 is a higher-accuracy Fiber Optic Gyro-based IMU that is form, fit and function compatible with a legacy equivalent, but with better performance needed for GPS denied navigation, precise targeting and line-of-sight stabilization. Applications include inertial navigation for UAVs, dismounted soldiers, civilian unmanned aviation, and oil and gas exploration. The low-noise, high-stability unit provides up to five-times better performance than competing systems. It features internal signal processing that provides full stand-alone or aided navigation, with optional standard IMU delta velocity and delta theta outputs.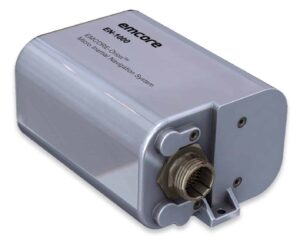 The EMCORE-Orion EN-1000 is a high-precision Micro Inertial Navigation System (MINAV) designed for unmanned vehicle navigation in GPS-denied environments, as well as accurate inertial measurement. The state-of-the-art technology provides performance close to that of a traditional RLG INS with 1/3 of the Size, Weight and Power (SWaP) requirements. The low-noise, high-stability system incorporates proprietary integrated electronics and optics devices, providing stand-alone aircraft grade navigator performance at 1/3 the size of competing systems.
To find out more about EMCORE and their fiber optic sensors and systems for unmanned vehicles, please visit their profile page:
https://www.unmannedsystemstechnology.com/company/emcore-corporation/