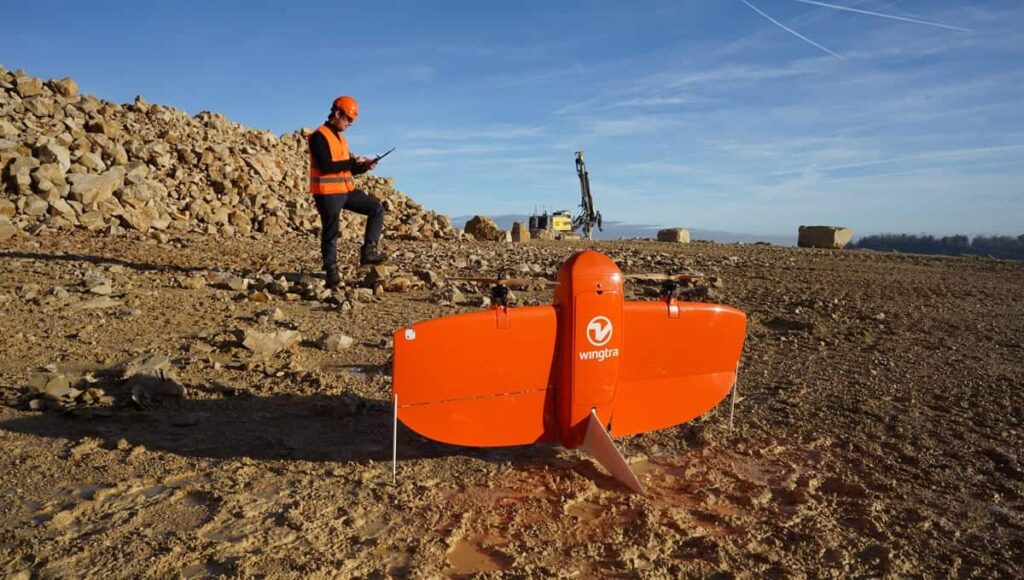 Septentrio, a manufacturer of GNSS receiver technologies, has announced that it has been selected by Swiss drone manufacturer Wingtra to supply GNSS OEM receiver boards and PPK processing software for the newly launched WingtraOne PPK drone. The combination of VTOL (vertical take-off and landing) technology and a high-spec PPK (Post-Process Kinematics) brings wide-area coverage at high levels of precision.
"With the WingtraOne PPK, we can offer a world first in drone photogrammetry – wide coverage at ultra-high precision. In a single one-hour flight, the WingtraOne can cover 130 ha (320 acres) delivering mappping with GSDs below 1 cm/px (0.4 in/px) with absolute accuracy down to 1.27 cm (0.5 in)", said Armin Ambühl, CTO of Wingtra. He continued, "WingtraOne's advantage is twofold: it combines VTOL with the latest PPK technology from Septentrio. With VTOL we can offer the best of both worlds: multirotors and fixed-wings. Vertical take-off and landing means hands-free operation and a smoother ride for the on-board camera payload. Secondly, efficient flying in fixed-wing mode means far greater coverage than any comparable multirotor."
Find suppliers of GNSS OEM Boards for UAVs >
Gustavo Lopez, Product Manager at Septentrio said, "We are proud and excited to be part of this innovative project with Wingtra pushing the boundaries of aerial photogrammetry. The WingtraOne incorporates our AsteRx-m2 UAS OEM board and, photogrammetry applications requiring high-precision, low-latency positioning are what it does best. The board is specifically designed for quick and easy integration and, with Septentrio's world-first, multi-frequency PPK, cm-level precision can now reach the parts dual-constellation solutions feared to tread."
Following a flight, the GNSS data of the WingtraOne is processed offline using Septentrio's PPK software. This combines the drone data with correction data from a nearby reference receiver to get accurate cm-level geolocations for every photograph. The on-board high-resolution Sony RX1RII camera, AsteRx-m2 UAS receiver board combined with Septentrio's PPK library and Pix4D photogrammetry processing software are together able to produce ground precisions of 1.3 cm (0.5 in) horizontal and 2.3 cm (0.9 in) vertical.