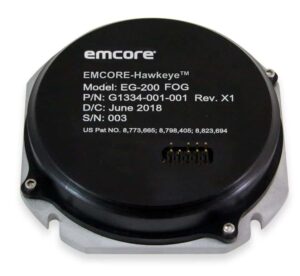 EMCORE Corporation has introduced a new series of precision, single-axis Fiber Optic Gyroscope (FOG) modules. The new EMCORE-HawkeyeTM EG-120 and EG-200 models will deliver the industry's best Size, Weight and Power (SWaP) compared to competing products.
The EMCORE-HawkeyeTM EG-120 FOG module is an ultra-compact, state-of-the-art design that is the smallest, most affordable closed-loop FOG available on the market today. It is approximately 1/2 the weight with 1/3 the power requirements of current generation FOGs and is 35% smaller than EMCORE's previous generation EMP series FOGs.
The EMCORE-HawkeyeTM EG-120 incorporates advanced, next-generation Field Programmable Gate Array (FPGA) electronics that deliver increased performance and reliability combined with low cost. The model EG-200 shares these advanced electronics with the EG-120, but with even greater performance capabilities compared to the EG-120 and the EMP series.
The EMCORE-HawkeyeTM series features performance specifications ideal for medium accuracy platform stabilization applications such as camera systems used in aircraft, Unmanned Aerial Vehicles (UAVs) and gun stabilization systems. A wide variety of other guidance, navigation and aeronautics applications are supported. The differences between these new models provide customers with greater flexibility to choose the performance level and form-factor that best meets their application, and these are only the first models to be announced. The EMCORE-HawkeyeTM FOG platform will allow even greater selection of performance capabilities in the future to meet a broad range of customer requirements.
"We saw a market need for an ultra-compact, more cost-effective FOG than what is currently available on the market," commented David Faulkner, EMCORE's Vice President and General Manager of Aerospace & Defense. "Our new EMCORE-Hawkeye series delivers a high level of performance and at the same time can be easily customized to meet our customer's needs. We are very pleased to have received initial orders for both these products from key customers for qualification into their systems," added Mr. Faulkner.
"EMCORE now develops all its key FOG components internally including the next-generation, solid-state optical transceiver, lithium-niobate modulator and FPGA electronics," added Dr. KK Wong, Sr. Director of Fiber Optic Gyro Products for EMCORE. "This allows performance parameters to be more easily customized to specific customer requirements at price levels equivalent to, or less than that of lower-performance open-loop designs."
EMCORE's EG-120 has a typical in-run bias drift from 1-10 deg/hr with Angle Random Walk (ARW) from 0.1 to 1 deg/rt-hr. The bias drift of the EG-200 is <0.1 deg/hr with ARW of 0.01 deg/rt-hr. Bias drift is an important measure of accuracy and precision of the FOG, with lower bias models delivering higher performance overall. EMCORE's new EG-120 and EG-200 FOG modules combine advanced, next-generation integrated optics and FPGA electronics to deliver higher accuracy, lower noise, greater efficiency, improved drift stability and higher linearity than competing units.