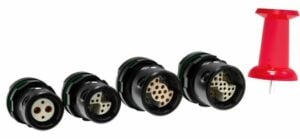 Fischer Connectors is showcasing the new Fischer Rugged Flash Drive, ultra-miniature high-density connector MiniMax 06 and the single fiber optic connector FO1 at the Eurosatory trade show in Paris.
These innovations also come with Fischer Connectors' newly published Technical Specifications, whose new "all-in-one" format simplifies customers' choices.
With these three new products, Fischer Connectors continues to drive innovation in the connectivity market – both electrical and optical – in addressing the current trends in miniaturization, high data transmission and ultra-ruggedness.
The USB 3.0 version of the Fischer Rugged Flash Drive is even faster, smaller and easier to use than its predecessor launched in 2011. Miniature and lightweight, this memory stick has proven to be the durable solution for people on the go who need to download and securely transfer confidential data, images or videos from devices used in extreme environmental conditions or in hard-to-reach areas.
The ultra-miniature high-density Fischer MiniMaxTM Series has been extended with an even smaller connector, MiniMax 06, which can combine up to 12 signal and power contacts in a footprint of just 10 mm. Rugged and easy to use, it ensures premium performance even in harsh environments and is ideally suited for handheld or body-worn applications when space is limited.
The Fischer FiberOptic Series has been extended with a new single fiber optic connector, FO1, a miniature, lightweight, rugged connectivity solution which is easy to use and ensures premium optical performance even in harsh environments. With IP68 sealing (mated) and UPC & SM APC polishing, FO1 is available either in pre-configured reels or integrated into custom assemblies for applications in defense, instrumentation, sensing and broadcasting, to name just a few.
Fischer Connectors is also presenting its newly published Technical Specifications at Eurosatory. Thanks to the user-friendly overview of all the company's standard products and to a handy horizontal format with a clear and intuitive layout, the publication helps design engineers choose quickly and easily the best connectors for the job at hand.