The miniaturization of electronic components has been a significant trend over the past few decades, allowing products and devices to be manufactured ever smaller and lighter. This has become a key focus within the military and aerospace industries to reduce the overall size and weight of their systems, whilst maintaining the integrity of proven technology. As a result, manufacturers of unmanned systems require smaller, more innovative interconnect systems that offer high reliability.
Comfort connectors such as MIL-38999 circulars, D-Subs and even MIL-83513 Micro-D connectors are now too large in some instances. Nano-miniature connectors are beginning to play a vital role in UAV applications, as smaller and lighter weight electronics and components generally allow for longer flight times. In addition, these new robust interconnect designs must be ultra-rugged and capable of withstanding a high shock and vibrational environment; factors such as weather and altitude are also important considerations.
Furthermore, new ruggedized standards for electronic components, along with the expectations of light-weight flexible cables and locking interconnect systems, have forced connector manufacturers to think "outside the box" and design specifically to meet these new requirements. The team at Omnetics developed a range of nano-miniature interconnects to meet these demands, with new connector designs based at .025" on center contacts offering military level quality and reliability.
Visit the Omnetics profile page for an overview of connectors designed for unmanned systems >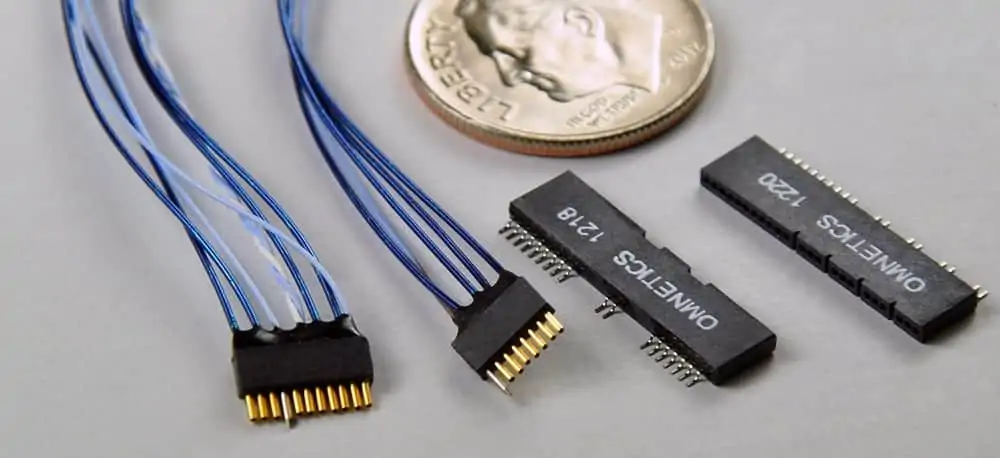 Omnetics' Nano-miniature connectors are 10 times smaller in volume and about 10 percent the weight of a standard Micro-D connector with the same number of positions. These nano-sized connectors are the smallest in the industry and exceed performance levels specified within MIL-DTL-83513, commonly referred to as the Micro-D, and are also designed to fit the new requirements of MIL-DTL-32139.
Omnetics designed and tested their Military Specification MIL-DTL-32139 Nano-D connector to handle a shock of 100G in each axis and a vibration exposure from 10 to 2,000Hz at 20G amplitude in each axis; this ensures the integrity of the connector is not compromised by the high shock and vibration demands often associated with aggressive landings.
With cameras, weaponry, GPS modules and other detectors now on board many light-weight UAVs, there is also an increased demand for high-speed connectors capable of transferring large amounts of high-resolution video. Impedance requirements and the need to mitigate Electromagnetic Interference (EMI) also need to be adequately addressed early on in the design process. Addressing these new high-speed electrical issues is a major focus for the development of miniature connectors; designing for this new generation of applications requires a strong focus on controlling the impedance of the high-speed paths, and minimizing EMI issues whilst remaining lightweight.
Within the UAV market, where lightweight solutions are vital, metal braided shields (replacing solid materials such as conduit) can be used effectively to keep the size and weight down. The most common method of shielding Nano-miniature connectors against EMI is to physically enclose the cable in a tightly woven metal braid comprised of wire strands. It is extremely important to pay close attention to how the shield is terminated on both ends of the assembly, as an unterminated shield needs a path for the currents to dissipate. Without this path, the currents will likely radiate as if the shield was not even there.
In general, the best shield design will result in the smallest possible holes for any electromagnetic radiation to exit. This typically comes from a 360° circumferential mechanical bond between the shield and the connector's back-shell (See the picture to the right). This is achieved using a standard band-it clamp or through a soldering process. Omnetics have designed a variety of back-shell configurations specifically for nano-miniature connectors, including straight or angled options.
Nano-miniature connectors are available with temperature ranges as wide as -55 to 200 degrees Celsius. They are available in single as well as dual-row configurations up to 85 contacts. Jackscrew hardware is typical; however, Omnetics Connector Corporation offers a tool free "latching" version as well. These Nano-D connectors come standard with nickel plated, machined aluminum shells, but also offer a variety of material options including; stainless steel or titanium shells for extra sturdiness. These nano-miniature connectors are also available in environmentally sealed circular configurations as featured in Omnetics Nano 360 series. Regardless of the shape these nano-miniature connectors can be manufactured with flying leads, as jumper assemblies, or as custom harnesses with multiple connectors involved. Other tail options are available such as surface mount, flex mount and thru hole. These very same Nano-miniature connectors are also available in panel mount configurations making them an ideal solution for designers seeking an ultra-miniature, yet rugged I/O option.
This article was written with support from Omnetics Connector Corp..