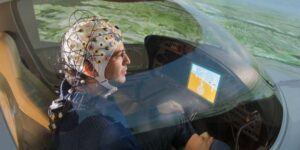 Project Brainflight, a collaboration between four organizations – TEKEVER, Champalimaud Foundation, Eagle Science and Technische Universität München – has announced that it has achieved direct control of a drone using a human brain-to-computer interface.
During a public presentation in Lisbon, Portugal, TEKEVER and Champalimaud teams used high-performance electroencephalogram (EEG) systems to measure brain waves noninvasively, and then used specially conceived algorithms to convert brain signals into drone commands. The drone operator, wearing a cap that measured brain activity, influenced the drone's path using simple thoughts. The electricity flowing through the pilot's brain acted as an input to the drone's control system, in order to perform a mission with objectives previously defined by the research team.
"The project has successfully demonstrated the use of the brain-computer interface (BMI) on a simulator for the Diamond DA42 aircraft, where one pilot controlled the simulator through the Brainflight system. We've also integrated the BMI the UAV ground systems and have successfully tested it in UAV simulators. We're now taking it one step further, and performing live flight tests with the UAV," said Ricardo Mendes, TEKEVER's COO.
Brainflight uses a multi-disciplinary approach of combining aeronautical systems engineering with neuro-science research. The project explores two different brain-computer interface (BCI) approaches. For this purpose, researchers have used the BCI system in a four seat, twin engine, propeller-driven aircraft simulator, the Diamond DA42. The final step in the project is the validation of the BCI approaches through control of an Unmanned Aerial Vehicle (UAV) in real flight.
Mendes added: "This is an amazing high-risk and high-payoff project, with long-term impact that has already provided excellent results and will require further technology maturation. We truly believe that BRAINFLIGHT represents the beginning of a tremendous step change in the aviation field, empowering pilots and de-risking missions, and we're looking forward to deliver these benefits to the market with highly innovative products."