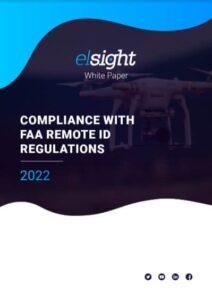 Elsight has released a new white paper explaining how UAS (unmanned aerial systems) operators can achieve compliance with the US FAA's new Remote Identification (Remote ID) regulations. Remote ID is a standardised method for drones to provide information that will allow authorities to identify not only individual aircraft but also their pilots, leading to increased safety and accountability for the industry.
Download the white paper from Elsight's website here
The white paper covers:
The importance of Remote ID for the drone industry and for BVLOS (beyond visual line of sight) operations
Broadcast versus networking approaches to Remote ID
The three ways in which drone operators can comply with the FAA's Remote ID requirements
The information that must be continually broadcast via Remote ID
How Elsight's Halo provides a future-proof communications solution for Remote ID-compliant BVLOS operations
Future Remote ID-compliant BVLOS operations are likely to require communication with a third-party service provider that can safely co-ordinate complex missions in crowded airspace, and this in turn will require a robust connectivity solution. To find out more, download the white paper from Elsight's website.