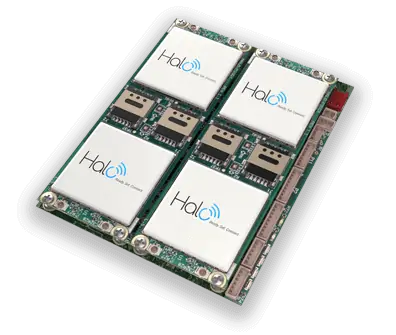 Drone connectivity solutions provider Elsight, has received a repeat order from Censys Technologies Corporation for its Halo connectivity solution for UAVs and unmanned systems.
Censys is a USA based corporation that builds remote sensing solutions for drone service providers, enterprise organizations and government entities. This includes the Sentaero family of products – which is a drone performance and value leader in the fields of environmental services, infrastructure monitoring and inspection, disaster relief and public safety.
The Censys order for additional Halo units is further validation of Elsight's Design-Win strategy. This order also supports the company's focus on growing recurring revenue as the order consists of both upfront hardware revenue as well as recurring Elsight cloud services (AllSIght) revenues.
The commercial value of this order during year one is approximately $120,000, and Elsight expects further orders to be received from Censys as its expand its drone network.
According to Elsight, the drone market is rapidly developing and providing an increasing number of commercial opportunities. Elsight's Design-Win strategy ensures the company is well positioned to grow organically with the market with minimal further sales effort and cost. Elsight currently has more than 90 Design-Win partners globally at various stages of development, from the testing phase to implementation and service launch.
Yoav Amitai, Elsight CEO, commented on Censys's decision to choose Elsight:
"This order from Censys confirms the compelling and persistent value of Halo as the ultimate connectivity solution for Beyond Visual Line Of Sight drone operations. We are delighted to continue this close partnership with Censys as they use the Halo to provide their customers with an improved range of services.
"This repeat order required minimal to no intervention from our sales team, which validates our 'Design- Win' strategy and its enormous power as a growth engine for the company. Elsight today has a substantial share of the drone market, and I firmly believe that the company is perfectly positioned to grow with our Design-Win partners as the industry continues to evolve and achieve broader commercial adoption.
"The flexibility inherent in the industry-agnostic Halo means the various use cases being fielded by Censys will all be supported. We look forward to seeing Censys continuing to expand, building a long-term positive relationship between the companies."