In the following article, the expert battery developers at Vanguard dispel five myths about modern Li-ion battery power.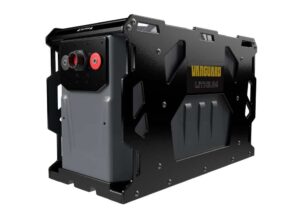 Technological developments of Li-ion batteries have greatly increased the number of uses that they can be applied to – from smartphones, computers and even toothbrushes to powering motor vehicles and heavy machinery. The advancements in Li-ion technology have led to the electrification of a wide range of industrial equipment.
Despite this, there are many myths that remain around the practicalities of battery-powered equipment that deter some users from moving to battery power. In this article Briggs & Stratton's Vanguard battery experts dispel some of these myths and share the facts about these incorrect assumptions.
MYTH #1: Battery-powered equipment can't withstand climate fluctuations
To some the idea of batteries being able to withstand a range of environmental conditions is unfathomable. People working outdoors need a solution that can withstand a vast array of seasonal elements, which combustion engines have proven to be able to do for years. However, discounting battery power would be a mistake.
Batteries have increasingly been developed to withstand harsh environmental elements, greatly improving their durability and ruggedness required for these conditions. While it's true that excessive heat and cold, as well as strong vibrations and exposure to moisture can be disruptive to battery power, they do not prevent batteries from being able to deliver optimal power performance.
Testing capabilities for batteries have been enhanced to allow manufacturers to expose their batteries to severe elements while ensuring they can deliver effective and efficient performance no matter the weather. From testing at temperatures as low as -20oC to as high as 60oC, the range of which modern batteries can deliver powerful, consistent performance has increased.
MYTH #2: Battery power is unreliable
As traditional fuel-powered machines are widely considered the norm, there is a tendency to dismiss battery power as it is an unknown. Concerns remain over the impact potential downtime can have on a business as they work out how to fix the issues that have occurred.
However, modern Li-ion batteries are designed to help the user should something go wrong. Built into the battery is a battery management system (BMS) that offers a wealth of data and insights surrounding battery health and performance that keep the battery, and in turn the equipment, functioning at its best. Being able to monitor this data helps to prevent downtime as users can constantly measure the state of the battery. The BMS serves as an onboard computer that monitors and measures information such as the pack's temperature, charge/discharge currents and voltages of each cell bank.
As the BMS constantly monitors the health of the battery, it is a great tool for supporting users should something go wrong. The battery can communicate with you to identify the issue so you can get back to work as quickly as possible helping to reduce downtime. Vanguard Li-ion batteries also feature internal contactors, which means when the equipment is off, the battery is off, helping to protect those doing maintenance to the battery.
MYTH #3: Once the battery dies, equipment is out of use until the next charge
Fears over battery longevity and what to do if the battery runs out is another reason why equipment users opt to remain with fuel power. The idea that if you run out, you can easily put more fuel in the tank is top of mind for some.
However, this discounts that if a battery were to run out, it can be quickly and easily swapped out for an alternative battery. Briggs & Stratton recently introduced the Vanguard Lithium-Ion 1.5kWh swappable battery pack that can be unclipped and replaced in a matter of seconds to help deliver consistent power output. The battery features an exchangeable design allowing customers to easily remove and replace the battery as needed with minimal downtime. A combination of swappable batteries can allow users to meet the larger power needs for their equipment.
MYTH #4: There is no such thing as safe charging practices
Battery charging is far safer than many understand. It is about far more than plugging the battery into its charging source and leaving it for a while. Instead, there are a multitude of factors that allow for the proper charging strategy for a Li-ion battery.
The BMS of the Li-ion battery supports battery charging by controlling when the battery can be charged to prevent the user from charging it at too high or too low of a temperature. This helps to protect the internal battery chemistry to prolong the life of the battery. It will also help to control the length and speed of charge to maintain optimum battery health.
MYTH #5: Lithium-Ion batteries aren't recyclable
Recycling batteries is often considered impossible due to the difficulties of disposing older nickel-cadmium (Ni-Cd) batteries. These difficulties do not apply to Li-ion batteries that are in fact incredibly recyclable. Li-ion batteries often have a second life in them (roughly 80 percent of the battery capacity remains), allowing them to be repurposed for other applications at the end of their life cycle.
Li-ion batteries do not contain the same heavy metals that used to be found in old batteries. This means that they can be safely recycled without fear of unwanted chemicals getting into your water supply.
The bottom line
Once the misconceptions around Li-ion batteries are removed, end users are left with a reliable, rugged, and sustainable power source that helps OEMs meet their electrification goals whilst delivering on their customers' ever-evolving power application needs.