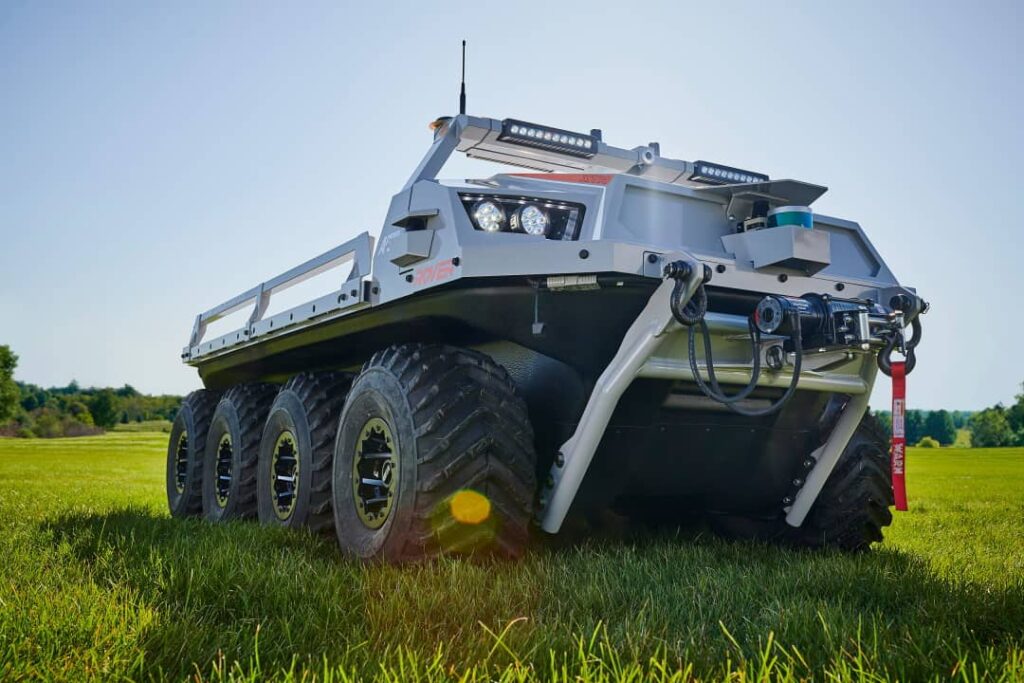 Vanguard, a developer of advanced power and propulsion solutions for unmanned systems such as UAVs (unmanned aerial vehicles) and UGVs (unmanned ground vehicles), has released the following article detailing how it has worked with amphibious all-terrain UGV manufacturer ARGO to provide a lithium-ion battery solution for the eight-wheeled Integrator vehicle.
Canadian manufacturer of amphibious all-terrain vehicles, ARGO, is constantly looking to develop ways to go where no one has been before. Championing innovative solutions to help users tackle rugged terrains and challenging environments, ARGO works closely with end users including defence, agriculture, and various commercial businesses to provide solutions to support them in the field.
The latest development by ARGO is the new Integrator Unmanned Ground Vehicle. As part of the machine's development, ARGO partnered with battery manufacturer Briggs & Stratton to leverage the company's unique Vanguard lithium-ion battery solutions, which are ideal for the demands placed on the vehicle.
The 8-wheeled UGVs have been designed to support an array of applications including military personnel in the battlefield, allowing them to aid soldiers and medics in challenging environments, minimizing the need to put their lives at risk. Facilitating the delivery of resupply equipment and supplies across any terrain, the UGV can swim across water, power through mud and scale obstacles.
Traditionally, ARGO used gasoline combustion engines to power their machines however, the new UGV was more suited to battery power to prioritise user safety, enhance performance reliability and elevate customer value. Non-negotiables included durability under duress, serviceability for ease of maintenance, integrated components for seamless performance, and increased safety. Meeting all these requirements, the Vanguard Commercial Lithium-Ion Battery Pack proved to be the perfect solution with its dust-, dirt- and water-resistance to ensure the machine's reliable deployment in a wide range of environments.
The Vanguard Commercial Lithium-Ion Battery Packs offer 5kWh power and can be combined in parallel to boost the power output for the machine. This feature was particularly well-suited for the UGV with its limited space availability. Vanguard worked closely with ARGO to design a battery compartment to accommodate up to five batteries, offering a combined 25kWh of power, to meet the requirements.
Also integral is Vanguard's Battery Management System (BMS), which is key to protecting personnel and preventing their being put in dangerous situations. The BMS acts as a diagnostics tool for the battery, feeding information back to the user and allowing them to monitor the battery performance. Through the BMS, users can also detect any errors and receive error messages allowing them to easily diagnose any issues and safeguard the support of those on the frontline.
Craig Kennedy, VP of Commercial and Robotic Products at ARGO, commented: "Selecting the right battery partner was a huge factor in the design and development of the unmanned ground vehicle. Ensuring that it would deliver the power that was needed to allow it to traverse challenging environments without breaking down was crucial to limiting the impact of treacherous situations."
"Safety and the protection of people is core to the mission behind the development of the UGV, so the fact that the Vanguard battery offers built-in safety features was key to our partnership."
Paul Bramhall, Director of Marketing EMEA at Vanguard, stated: "Our unique Battery Management System is the perfect tool, supporting machines of all sizes, wherever they may be. The live feedback system helps to diagnose any potential issues that may occur, allowing users to rapidly relay exactly what maintenance needs to be carried out which in turn helps to prevent long downtimes of machines."
Maintaining battery life in extreme terrains can be a challenge. The Vanguard batteries used in the UGV are designed with internal contactors which allow the battery to be off when the vehicle is off. Users can deploy this function to maintain battery power and also to work safely on the battery for any maintenance needs.
Vanguard's commitment to ARGO goes beyond battery performance alone; the partnership is built on long-term service and support as part of Briggs & Stratton's full global service and support package. The as-standard service package will see the Commercial Lithium-Ion Battery Packs found in the ARGO UGVs maintained by Vanguard, highlighting its ongoing commitment beyond the point of sale allowing customers to secure an effective power solution for their every need.