Aerobits explains the use of Remote ID for air traffic management in the U-space, and how the company can support drone operators with Remote ID solutions to help them manage and monitor the airspace.
---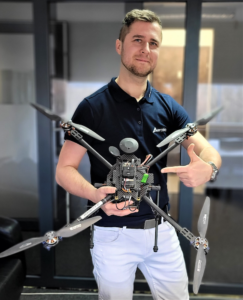 With an increasing number of drones in the airspace, the management of air traffic will be crucial for safety purposes. European Union Aviation Safety Agency (EASA) supports drone operators and drone pilots in terms of ensuring safety in the airspace. Aerobits supports drone operators with Remote ID solutions, which help them to manage and monitor the airspace.
Starting from the 26th of January 2023 the U-space regulations came into effect across the European Union. This will lead to maintaining control of UAVs in the U-space airspace, most of all in urban areas. The concept of U-space refers to the guidance of UAV traffic to provide safe communication with other users of the airspace. One of the solutions which can help to deal with those rules is Remote ID. In general, the Remote ID is something like a digital license plate for drones.
The EASA has determined Direct Remote ID as its primary method of implementation. Be aware, that almost all drones must be equipped with Remote ID feature.
Final dates for equipping drones with Remote ID devices around the world:
JAPAN – 20th of June 2022
USA – 16th of September 2023
EU countries – 1st of January 2024
As you can see from above table, Japan has already complied with rules regarding Remote ID for drones. Drone operators in the USA and EU have still got some time to retrofit their drones with Remote ID modules.
Drones are a key part of the future in the aviation area, that is why EASA wants to ensure maximum protection for Europe's citizens. European Union Aviation Safety Agency is now looking forward to the continued improvement of the drone industry in Europe. Autonomous drones, which are used for delivery purposes are very insecure without awareness of other surrounding drones.
Fortunately, Aerobits idME series devices enable detection of common UAVs and are relatively easy to integrate into any flying device. In that way, thanks to many solutions available right now, U-Space can be safely implemented in practice.
The mandatory use of Remote ID will soon become a reality! Starting from the beginning of 2024 in the EU nearly all UAVs will need to be registered and equipped with Remote ID solution. No flights will be allowed after that date without complying with those rules. Don't wait till the end. Be compliant with the upcoming regulations today and ensure safer skies.