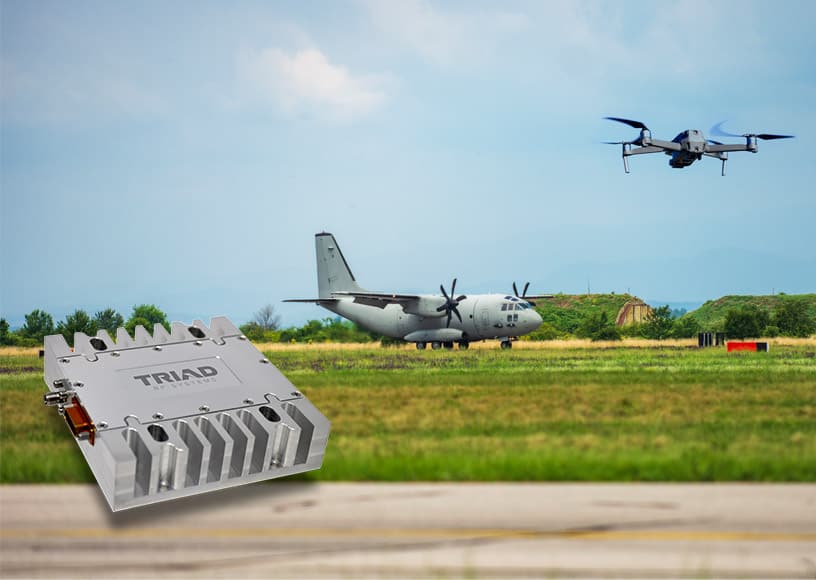 Triad RF Systems has released the following article explaining how its new TA1264 RF amplifier can be used as part of counter-UAS (unmanned aerial systems) solutions to defeat hostile drone threats.
Threats posed by hostile UAS are increasing in both military and commercial sectors. In the new world of electronic warfare, these aerial drones are dependent on GNSS/GPS technology for precise positioning, navigation and time information. In addition, real-time command and control links and high data rate radio frequency (RF) links are required for these assets to complete their missions. While this new technology is vital to the operation of these platforms, they are also vulnerable to cyber threats and exploitation.
A new generation of advanced UAV detection and defense products have been developed to combat the increasing threat posed by remotely-operated aerial systems. These counter-UAS systems are designed to identify, jam, interdict, and defeat everything from purpose-built, military-grade aircraft to weaponized hobby drones. Controlling the wide range of RF spectra in which these products operate is a highly challenging task.
The presence of dense RF signal traffic on the battlefield is constant, and radio silence is no longer the norm. Increasingly complex software-defined radios used in UAS systems require equally complex counter-UAS systems to combat them. Triad RF continues to receive requests from system integrators to provide highly linear, compact and powerful broadband amplifiers to keep up with and counter these threats.
The New TA1264 Radio Amplifier Answers Military Need
As a leader in the design/manufacture of high-power microwave amplifiers and amplified radio systems, Triad RF continues to add to our family of commercial-off-the-shelf (COTS) focused wideband high-power amplifiers. In reaction to the need for better enabled counter-UAS systems, Triad RF has released the latest in a series of broadband, lightweight, and compact power amplifiers.
The TA1264 weighs just 16 ounces, measures under 4″ square and under 1″ thick, and operates in the frequency range of 300 MHz to 6 GHz, while delivering high-power density and optimal linearity and efficiency. It is enclosed in a rugged housing and designed for operation in harsh environmental conditions. It is ideal for critical airborne radio system applications, from simple CW/FM signals to highly modulated carriers such as 64 and 256QAM for software defined radios, as well as for general-purpose RF/microwave amplification.
These RF/microwave amplifiers also provide advanced built-in PA monitoring and control sections that are directed by microprocessor, FPGA, CPLD, or a combination of these devices. Functions include temperature output, DC monitoring to the device level, and power control across various frequencies.
Applications for the new TA1264 amplifier include:
Counter-UAS
Electronic warfare
General RF amplification