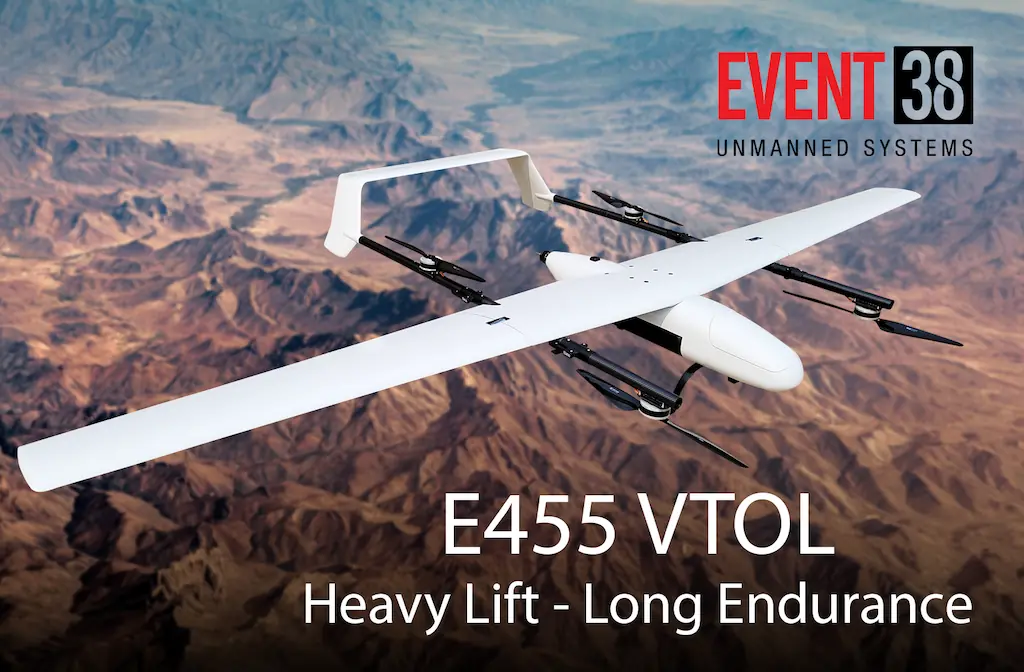 Event 38 Unmanned Systems, Inc. has launched its latest aircraft model, the E455. 
Building on the success of previous models, the E455 establishes itself as a premier fixed wing, vertical takeoff and landing (VTOL) drone.
At 55lbs, the E455 offers a 2-hour flight endurance on battery power alone. The E455 is designed to carry a diverse range of payloads, including mapping sensors, LiDAR, and EO/IR surveillance sensors, meeting the demands of various applications while remaining under the 55lb Part 107 limit. 
Where allowed, the E455 can fly at gross weights up to 65lbs, allowing even more versatility in payload selection.
One of the E455's key features is its open protocol payload bay. This design allows for the seamless integration of custom payloads, giving users access to less common sensors and an upgrade path as new sensors are developed.

Designed and manufactured by Event 38 in the USA, the E455 underscores the company's commitment to expanding the envelope of performance and flexibility available to drone operators.
Event 38 designs and manufactures fixed-wing VTOL drones in Richfield, Ohio. Since 2011, the company has sold over 600 drones to people and organizations all around the globe. 
Its drones can capture geo-tagged aerial data for a range of industries and applications. They can also be customized for high-resolution aerial photogrammetry, thermal and multispectral imagery, LiDAR, and live video streaming.
Jeff Taylor, the Founder of Event 38, commented; "The E455 represents our dedication to meeting the most ambitious needs of our clients. With its diverse payload capabilities and open protocol design, we believe the E455 will become an essential tool for professionals in multiple sectors."