FlyingBasket is a leading developer of heavy-lift cargo drones for commercial and civil applications. UST is delighted to welcome FlyingBasket on board as a supplier partner, and we will be highlighting their unique solutions and capabilities across our channels over the next 12 months.
We've just launched FlyingBasket's UST supplier profile, which has been written and built by our team in collaboration with the company. The Gold profile showcases the FB3, a heavy-payload cargo drone that provides an unparalleled combination of carrying capacity and compact size.
Read on to find out more: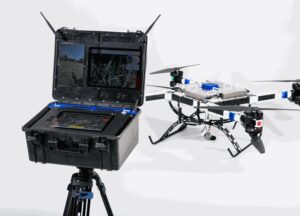 The FB3 is an all-electric multirotor platform that requires no disassembly and can be easily transported inside a van or trailer, ready to deploy at a moment's notice. The versatile UAS has been designed to be BVLOS (beyond visual line of sight)-ready, with a robust data link that transmits critical flight control data and telemetry at ranges of up to 10 km. All frequency bands have been specifically configured to minimize interference, and are ECO (European Communications Office)-approved.
The highly adaptable heavy-lift drone delivers exceptional strength, with the ability to lift 100 kg of payload while weighing only 70 kg. It can be provided in one of two configurations, allowing users to carry and transport payloads of all shapes and sizes: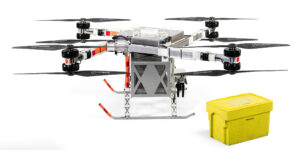 Sling Configuration: use a proprietary remote-controlled load hook to lift and detach heavy cargo
Cargo Compartment: a rugged transportation box measuring 81 x 35 x 30 cm, designed to suit a wide range of payloads and operational requirements
The FB3 features eight brushless motors configured in a coaxial quadcopter setup. This innovative design divides propulsion into top and bottom subsystems, providing critical redundancy for the utmost in safety while ensuring superior heavy-lift performance.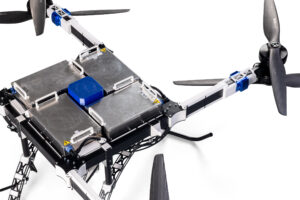 Thanks to FlyingBasket's custom-made smart batteries, the FB3 is an eco-friendly and sustainable alternative to helicopters and combustion engine-powered aircraft for mission-critical cargo deployment, providing a minimal environmental footprint.
The FB3 has been designed from the ground up with safety foremost in mind. The aircraft includes a comprehensive suite of cutting-edge features to ensure peace of mind and mission confidence even in the most challenging of environments, including a Flight Termination System (FTS), optional ADS-B receiver, and radar AGL sensor.
FlyingBasket also offers a range of comprehensive professional training programs for drone pilots and team members.
To find out more about FlyingBasket and the FB3 heavy-lift drone, please visit their profile page: https://www.unmannedsystemstechnology.com/company/flyingbasket/