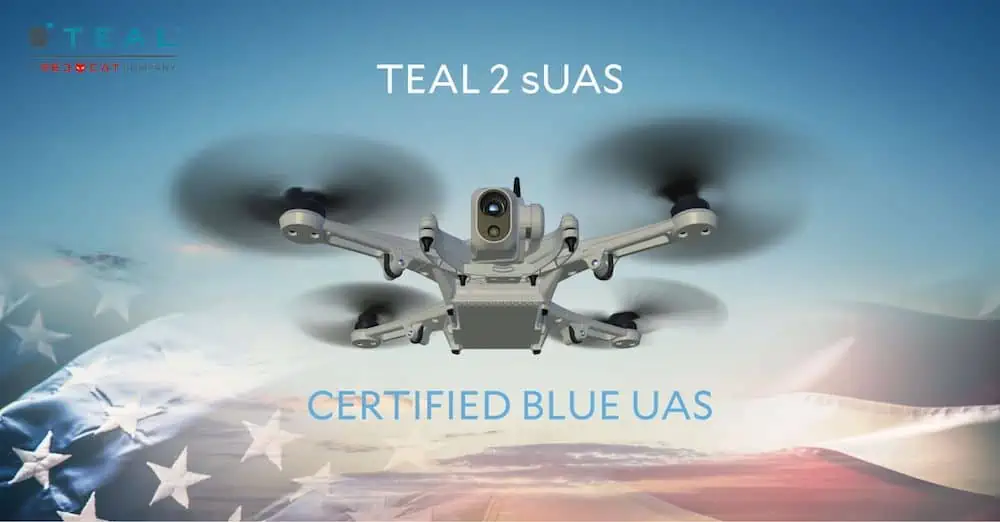 Red Cat Holdings' new military-grade sUAS, the Teal 2, has received Blue UAS clearance from the US Department of Defense (DoD), meaning Teal 2 joins a select group of DoD-approved drones for government users. 
Officially launched in April 2023, Teal 2 has become a leading sUAS for night operations. It is the first sUAS to be equipped with Teledyne FLIR's new Hadron 640R sensor, providing end users with high resolution thermal imaging in a small form factor. Teal 2 also offers the latest intelligence, surveillance and reconnaissance technology, delivering time-critical information and enabling operators to make faster, smarter decisions.
Teal 2 is the second sUAS from Red Cat subsidiary Teal Drones to have passed the rigorous testing required for Blue UAS clearance. Teal's legacy sUAS, the Golden Eagle, is also on the cleared list, which currently includes fewer than 20 drones in total. According to the DoD, these drones "are NDAA compliant, validated as cyber-secure and safe to fly, and are available for government purchase and operation."
Blue UAS is an initiative of the Defense Innovation Unit (DIU), a DoD organization focused on accelerating the adoption of commercial and dual-use technology to solve operational challenges at speed and scale. This acceleration strengthens national security and helps grow the national security innovation base.
"Blue UAS clearance is a high bar to reach for any sUAS because of the extensive vetting process. With this certification, all our customers – military, government and commercial – can be confident that the Teal 2 meets the highest standards for cybersecurity, safety and operation," said George Matus, Teal Founder and CEO. "Blue UAS certification opens the door to greater opportunities for Teal 2. We can now fill orders that were contingent on certification, and in addition to orders from the US government, we know that governments of allied nations are also more likely to purchase Blue UAS-approved drones."
Find manufacturers of sUAS for commercial and tactical applications>>