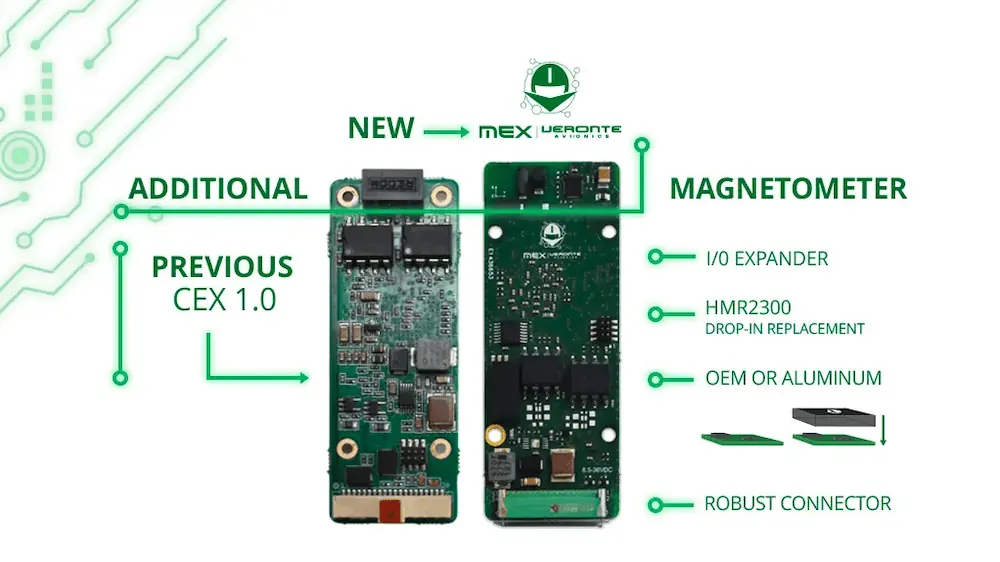 After assessing unmanned market demands, Embention has released Veronte MEX, a robust magnetometer sensor with I/O expansion capabilities.
According to Embention, in aviation, a field where weight is an important agent in design, struggling with wiring is one of the most common issues faced during vehicle design. With the use of the new Veronte MEX, this issue would be reduced and new opportunities for the connection of different sensors and devices would arise.
The Veronte MEX is protected by an enclosure made of anodized-aluminum, allowing for installation as an OEM version for weight and size reduction.
Features
Magnetometer:
With its magneto-inductive technology and one sensor coil for each one of the three axis, the internal magnetometer detects direction and strength of a magnetic field, including the earthly field, useful for navigation applications. The magnetometer measurements can be configured in order to be sent through RS-232, RS-485 or CAN channels to other devices, like any other variable. It has been designed as a drop-in replacement of Honeywell HMR2300 magnetometer.
Wiring Optimization:
The wiring optimization plays a critical role in the aircraft industry, permitting a significant weight reduction. Veronte MEX permits to create a robust redundant CAN Bus network through the vehicle and to interface it with non robust signals (PWM, Analog Inputs, I2C…). The robustness of the CAN Bus must also be highlighted: redundancy, software configurable terminating resistors and enhanced resistance to electromagnetic interference. These properties avoid GND loops and permit the installation of long cables with no signal loss.
I/O Expander:
Veronte MEX provides extended I/O so as to control several peripherals (PWM, RS232, RS485, Digital Outputs, I2C, Analog Inputs…) through the CAN Bus, achieving more control over complex payload. It can be used for controlling peripherals with a robust communications protocol as well. In case it is needed, multiple Veronte MEX boards can be installed in the same network for increasing the number of I/O ports or because of system architecture needs.
Veronte MEX offers a powerful peripheral to ease the reduction of wire in autonomous vehicles, allowing an increased number of devices in the system at the time it adds magnetometer related functionalities. With its easy integration, Veronte MEX becomes a quick solution for increasing connectivity capacity and allowing wiring optimization.