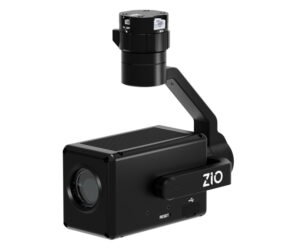 Gremsy has introduced Zio, a 4K resolution stabilized zoom payload designed for a variety of UAS (unmanned aerial systems) applications, including inspection, surveying, and public safety. Zio is a lightweight integrated payload that combines a Sony 4K sensor with stabilized three-axis gimbal technology, delivering powerful 30x zoom capability and featuring compatibility with MAVLink-compliant platforms.
The Zio is optimized at 30x super resolution zoom, giving users access to hard-to-reach areas and obtaining a unique view of objectives. The payload is built around a Sony 4K 1/2.5″ Exmor R CMOS sensor, allowing it to capture superb 4K resolution video and images at a high level of stability under demanding conditions.
Fully compatible with MAVLink, Zio is ready to be seamlessly integrated with drones powered by PX4 and Ardupilot. The payload also gives users advanced control of the camera and gimbal from the remote controller.
Zio enables video stream to the drone remote controller (with QGroundControl) via HDMI and Ethernet, with the following specifications:
HDMI output: 1920 x 1080 (60p)
Ethernet output: H264 RTP at 1920 x1080 (60p)
Combined mode: HDMI output 1920 x 1080 (60p) & Ethernet output H264 RTP 1280 x 720 (60p)
To find out more about Zio, visit the product page on Gremsy's website.