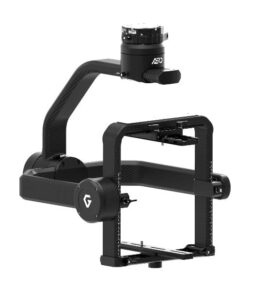 Gremsy has launched Aevo, a new heavy-lift carbon fiber gimbal designed for industrial UAVs (unmanned aerial vehicles) and featuring the highest payload capacity of any Gremsy gimbal to date.
Aevo's construction includes a sturdy carbon frame, improved mechanical design, and high-torque brushless motors, which help to boost the gimbal's rigidity while keeping it as light and compact as possible. The carbon fiber structure adds incredible strength and lightness to the gimbal, making it durable, versatile, agile, and highly portable for in-field missions.
Aevo is an ideal solution for users requiring large payload options. Designed with a large camera cage measuring 230x195x200mm and capable of carrying up to 9kg, Aevo can accommodate large and heavy payloads efficiently. This makes the gimbal highly suitable for most large industrial cameras used for mapping, surveying, hyperspectral imaging, and geodetic applications.
Thanks to the integrated 16-bit high-resolution encoder, Aevo offers enhanced image stabilization. The gimbal provides 360-degree endless panning capability, allowing the camera to easily capture every possible angle of the subject.
Aevo is equipped with an advanced quick-release system that provides safety, stability, and convenience of operation while permitting the passage of power and control signals for both gimbal and camera. Quick release enhancements also allow USB 2.0, CAN, UART, S-bus, Spektrum, PPM, and Bluetooth 4.0 connections.
The gimbal comes with a standard damping system for mounting on the DJI M600 as well as multiple drone platforms based on Pixhawk. Aevo's built-in CANbus and gSDK capabilities also give users the option to control the gimbal via the M600 Lightbridge 2 or MAVLink 2 protocols. Through a connection to the COM 2 port, Aevo supports both the SDK and the MAVSDK, enabling customers to operate the gimbal and easily integrate it into their own solutions.
Key specifications of the Gremsy Aevo gimbal include:
Weight: 2.63kg (5.8 lbs)
Payload Range: 1.67 – 9kg (3.7 – 20lbs)
Dimensions (DxWxH): 433x307x433 mm
Camera cage (DxWxH): 230x195x195 mm
Connections: USB 2.0, CAN, UART, S-bus, Spektrum, PPM, Bluetooth 4.0
Gimbal modes: On/Off, Lock, Follow, Mapping