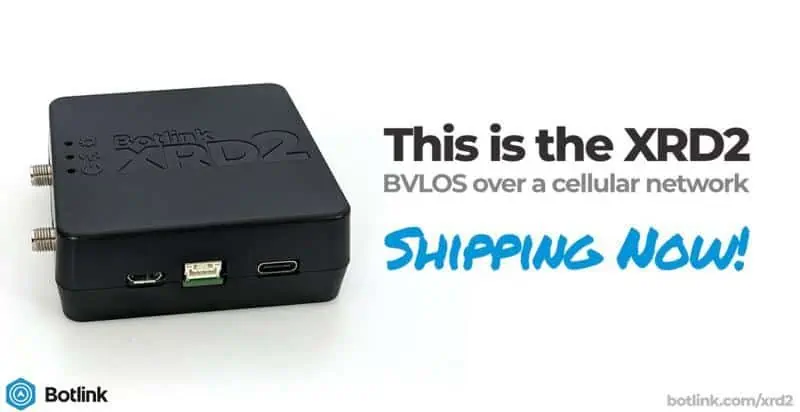 Botlink has released the XRD2, a Command and Control (C2) solution for Unmanned Aerial Systems (UAS) that enables Beyond Visual Line Of Sight (BVLOS) operations via cellular communication from almost anywhere in the world.
The successor to the company's XRD, which has been used to operate UAS over cellular networks all over the world, the XRD2 features a much more powerful processor, allowing for onboard video encoding during operations. This feature allows users to adjust video settings on the-fly depending on signal strength as well as mission requirements.
Designed, tested, and assembled in the US, the XRD2 processor is compatible with common video codecs, and includes a camera that works out of the box. Additionally, the XRD2 carries on the XRD1's history of reliable command and control over a cellular network.
In addition to the onboard processor, the XRD2 includes a board designed by Packet Digital, Botlink's parent company, and a socketed modem, which allows for users to easily swap certified modems depending on the location of operations. The enhanced processor also opens the doors for custom software deployment within the XRD2, removing the need for separate companion computers that are common throughout the industry.
"The release of the XRD2 is a very big moment for our company," said Terri Zimmerman, CEO of Botlink. "We've had a lot of success with the XRD1, but the customer base continually brought up the need for real-time video during operations, and we knew we needed an XRD with more onboarding computing power to meet that requirement."
"Botlink has a long history of supporting government and DoD customers with the XRD, and that's not different with the XRD2. We knew that building this stateside was important, as well as focusing on communication security," continued Zimmerman. "The XRD2's connection is initialized using US-Based servers, then transitioning to a more direct connection between the pilot and drone, ensuring a high-level of communication security."