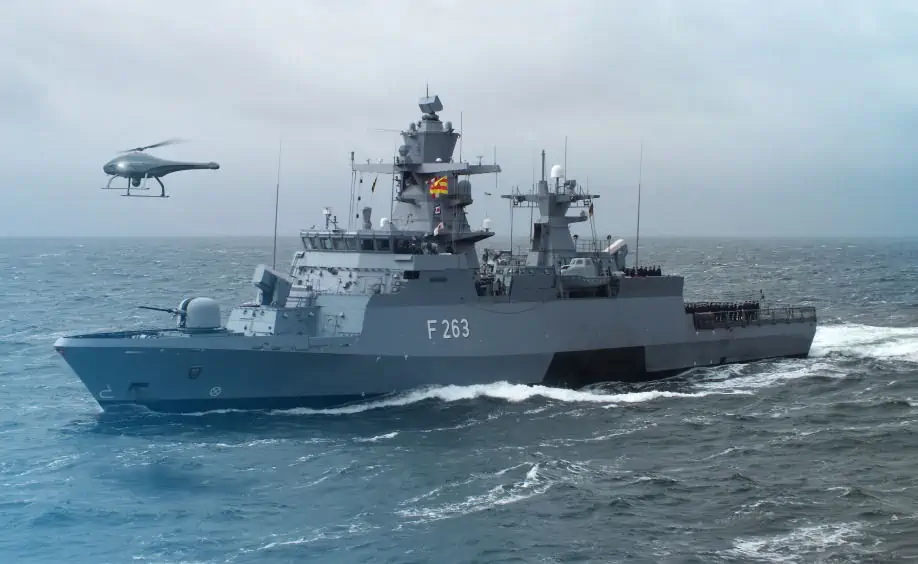 UMS Skeldar's V-200 unmanned helicopter has been provided to the Bundeswehr (Armed Forces of Germany) for use on board the German Navy's K130 corvettes. Designated the "Sea Falcon", the Skeldar V-200 UAS (unmanned aerial system) will expand the corvettes' imaging reconnaissance capabilities, allowing the vessels to detect and identify objects far beyond their on-board sensor systems.
ESG Elektroniksystem- und Logistik-GmbH has procured three UAS for the Federal Office of Bundeswehr Equipment, Information Technology and In-Service Support (BAAINBw). One UAS consists of two Skeldar V-200 aircraft, a ground control station integrated on the corvette from which the aircraft is controlled, and equipment with tools and spare parts.
The Sea Falcon is based on the type Skeldar V-200 from the Swedish manufacturer UMS Skeldar AB and can operate for up to 5 hours with a maximum take-off weight of 235kg, a maximum speed of 75 knots and a payload of up to 40kg. It can take off and land automatically on the deck of the corvette in up to 20 knots of wind speed and "Sea State 3". An integrated sensor transmits real time optical and infrared images to the ground control station.
The pilot phase of the project will include the development and certification with regard to the adaptation requirements of the German Armed Forces, the delivery of one UAS including integration into a corvette, initial training of the German Armed Forces personnel as well as comprehensive logistic services.
During the subsequent production phase, two further systems will be delivered, one of which will also be integrated into a corvette and the other used for land-based training. In addition, three armament sets will be delivered for the future pre-fitting of further corvettes to accommodate a UAS.
A special feature within the scope of the adaptation developments is the extension of the so-called "safety-critical chain" with further functionalities, which will be concluded with a military approval. The safety-critical chain ensures that the aircraft cannot leave an intended area of operation.
Axel Cavalli-Bjorkman, CEO of UMS Skeldar, commented: "This new contract with the German Navy is a significant development for us and is testament to our enduring relationship with ESG and the long-term partnership with the German Armed Forces in delivering flexible and mission-proven Unmanned Aerial Systems. Throughout the last few years, we have provided mission-based evidence of our capabilities that have ultimately demonstrated why the Skeldar V-200 is the leading maritime UAS in its weight category. We look forward to working with ESG and the partners to fulfil this next phase of the contract."