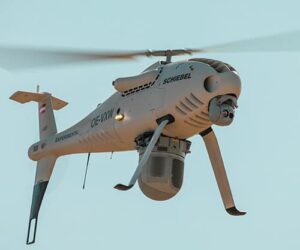 Schiebel has collaborated with Thales in order to provide a persistent, assured and integrated ISTAR (Intelligence, Surveillance, Target Acquisition and Reconnaissance) asset to find, fix, track and identify surface threats, such as FIACs and single and multiple Unmanned Surface Vessels (USVs).
The collaboration is in response to emerging threats at sea, in both littoral and blue water, which have been evolving significantly over the last decade. Navies are faced with an increased use of Fast Inshore Attack Craft (FIACs), unmanned surface and air vehicles, as well as commercial platforms repurposed as weapons. Using conventional techniques, they can be hard to detect until it is too late.
Rapid Detection and Identification of Unknown Targets
Gaining vital minutes and seconds to respond to ever changing maritime threats or even saving lives at sea, is exactly what the combined capabilities of the Schiebel CAMCOPTER® S-100 Unmanned Aerial System (UAS) provides with an integrated sensor suite consisting of Thales's high-performance I-Master™ radar, the IAI POP®ULTRA EO/IR sensor pod and IFF.
The S-100's sensors, supported by an Automatic Identification System and fused together with the CarteNav AIMS Mission System provides the operator the ability to detect and identify unknown targets quickly.
I-Master can be operated in both Synthetic Aperture Radar (SAR) and Maritime Moving Target Indication (MMTI) modes and once it detects and finds a contact, the on board EO/IR sensor is cross-cued to perform the identification. High-definition imagery and radar data is downloaded to the human operator and disseminated in real time through the host ship's Combat Management System and disseminated to multiple users.
Definitive Maritime Surveillance
The promotion of the mature and proven CAMCOPTER® S-100, with over 100,000 operating hours and an unrivalled formidable sensor suite, comes at a time when the need for definitive maritime surveillance against asymmetric threats is increasingly called upon to ensure safe operation in high tempo, high-risk areas around the world.
A live flying demonstration and sensor suite trial of this maritime capability is planned within the next few months in UK airspace under CAA approvals along with a demonstration of full data integration into an existing representative ship Combat Management System architecture.
This collaboration between Thales and Schiebel offers Navies a low risk, cost effective capability enhancement that will complement embarked manned aviation assets. The capability will contribute to a complex maritime picture informing littoral targeting and blue water strike operations while adding layered protection to individual vessels.